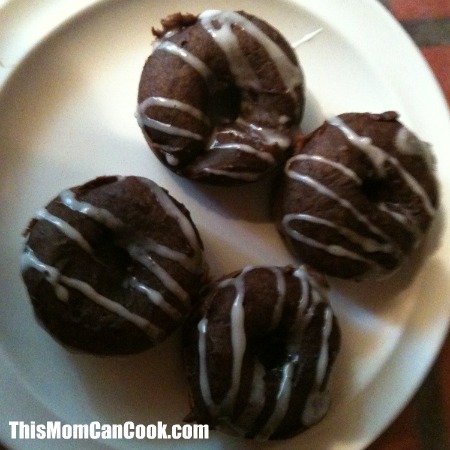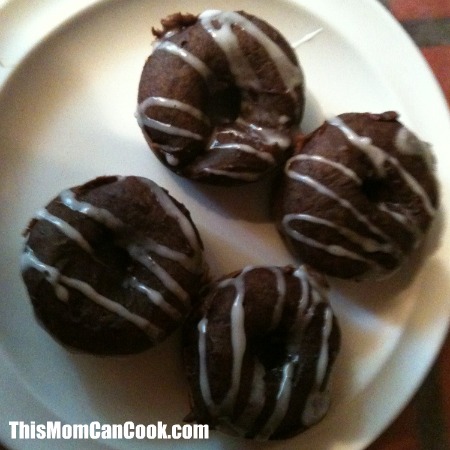 Yesterday I spoiled my family with making some Chocolate Cake Donuts. They were such a huge hit that I made them again today. These are super easy to make and your family or friends with think you rock!
Check out my recipe below:
Ingredients:
1 1/2 cups of all purpose flour
1 tsp baking powder
2/3 cup sugar
1 tsp vanilla extract
1/2 cup milk
1/3 cup unsweetened cocoa
Dash of salt
2 eggs
3 tbsp melted butter
For Glaze:
1 cup confectioners sugar
2 tbs milk
Directions:
In a large bowl mix flour, cocoa, baking powder and salt.
In another bowl mix your eggs, sugar, vanilla, butter and milk.
Combine egg mixture to your flour mixture.
Spray your donut pan with cooking spray. Fill each donut spot on your pan about 2/3 full and bake at 325 degrees for 8 minutes.
Cool donuts in pan for a few minutes then remove.
Frost the top of your donuts with glaze. To make glaze, just mix the confections sugar and milk.
Enjoy
I used my Norpro donut pan to make this recipe!
Disclosure: This post contains affiliate links. By clicking on these links, you are helping to support this blog!