Affogato, which means "drowned" in Italian, is a popular Italian treat that consists of vanilla ice cream or gelato "drowned" in a shot of espresso. It is often served with a splash of Amaretto, Kahlua, or any other liquor. 
The magic happens when you pour the hot espresso over the cold gelato. Here, you find the right balance of flavors and temperatures to make a treat that is hard to resist.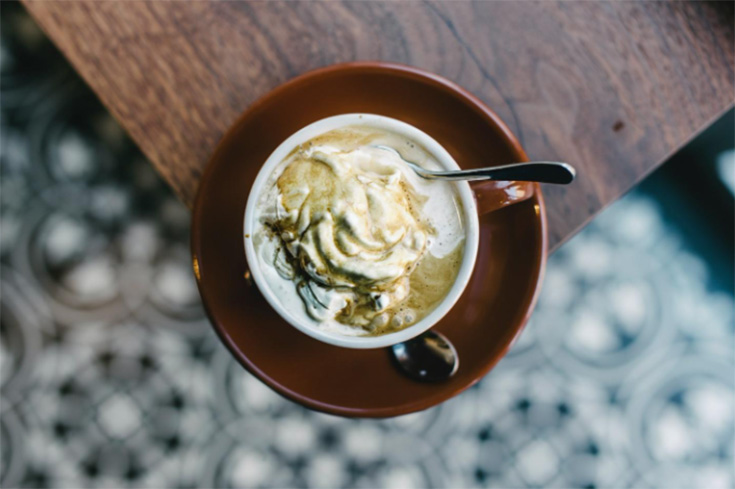 You get two desserts in one when the hot coffee melts the gelato. Although you don't have to do it, it's wise that you add some alcohol to the mixture to get the added flavor.  
An espresso machine is often the best-recommended device for the work, but if you don't have one, you can always prepare excellent affogato using a French press, a Moka pot, or even instant coffee. You simply need to know how to french press coffee, and when brewing it, do it strongly. 
Although vanilla gelato is the most common flavor, you can get creative and use a wide variety of ice cream or gelato flavors. Excellent options you can go with include pistachio, caramel, and chocolate.
Serve your affogato without alcohol at lunch or with a splash of it as a dessert after supper. 
How to Make an Affogato
To make the perfect affogato, follow these simple steps:
It's time to make that tasty espresso. Use the method you like best and your preferred coffee.
Since the coffee will melt into the gelato, you should make it strong so that it won't be too weak when you take your last sip.
Of course, this rule isn't set in stone. If you prefer your coffee weaker, you can go ahead and prepare it. After all, it's your dessert.
 Scoop out the ice cream or gelato. 
While the espresso is brewing, put a scoop of vanilla gelato or ice cream in a small drinking glass.
The amount you scoop depends on the coffee you have brewed, but in most cases, two scoops are enough. To have an easy time eating your affogato, serve it in a whiskey glass.
 Pour the coffee over the ice cream.
Pour the espresso over the ice cream while it's still hot.
Remember that you'll be putting something hot on top of something cold, so you'll need a glass that can handle the heat. A good rule of thumb is to have solid, heatproof glass. 
Stay away from fragile items, as they will most likely break when the temperature changes.
Now that the basics are in place, you can play with your coffee. For example, you can pour in a splash of Amaretto or your favorite alcohol to give it a little kick. There is also no harm in topping it with chocolate shavings. 
How to Make the Best Affogato
You want to make the best affagato possible, don't you? To help you out, here are ideas you can use to your advantage:
Use ingredients of good quality. The best affogatos are made with high-quality ice cream and freshly made espresso or coffee. So always ensure you have these for the best experience. 
Until the coffee is ready, keep the ice cream in the freezer. You need to slowly dissolve the ice cream in the coffee. As you can tell, if you take the ice cream out of the freezer too soon, it will melt and turn into a soupy mess. While you can still use it, it won't give you the perfect flavor you are after. 
Leave the ice cream in the freezer until the coffee is ready. 
Try out a few different types of coffee. It's always good to try out different types of espressos. For example, if you are looking for a more robust flavor, go for a strong, bold espresso. Looking for a more delicate taste? Try a smoother and milder espresso.
Use the right kind of glass. As mentioned, the glass you use should resist heat so it doesn't break. Also, choose a short glass with a wide rim that lets you easily get your spoon in.
Use the right amount of espresso for the amount of ice cream. Your affogato will taste and feel different depending on the amount of espresso and ice cream you use. For perfect-tasting affogato, 1-2 ounces of espresso per scoop of ice cream is a good rule of thumb to go with.
Serve it right away. Affogato will taste the best when you serve it immediately after preparing it. This ensures that none of the ice cream has melted and that the espresso is still hot.
Add something crunchy, like nuts or crushed cookies. The purpose of doing this is to add a little texture to the smooth ice cream.
Ideas for Affogato Toppings
For a luxurious twist, add some fun and tasty toppings to your coffee and ice cream: Some of the toppings you can use include:  
Shreds of chocolate or small chocolate chips

Beaten cream

Caramel or chocolate sauce

Nuts such as hazelnuts, almonds, or pistachios that have been ground up

Cinnamon

or nutmeg sprinkled on top

Fresh fruits such as sliced bananas or berries

A little cocoa powder

A few chocolate-flavored coffee beans

Crushed biscotti or Italian pizzelle cookies

A little bit of salt
Parting shot
If you are a lover of iced coffee, you can easily upgrade your guilty pleasure t a stunning affogato. All you need is espresso, ice cream, and a touch of booze. 
Of course, for you to get the best flavors, you need to prepare them properly. Always use high-quality ice cream and coffee. Once it's ready, serve it immediately so that all the ice cream doesn't melt, and the coffee doesn't get cold. 
Plenty of accidents have been reported when the glass shatters when you pour hot coffee into ice cream. To ensure this doesn't happen, use tough, solid glass that can withstand the temperatures. 
Oh, ensure the glass you use has a wide rim to allow you to scoop the tasty ice cream easily.