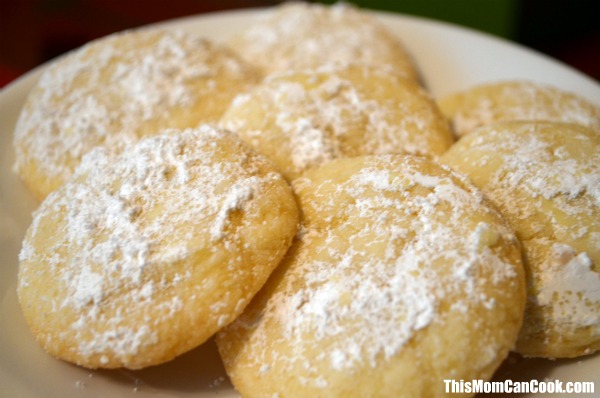 One of my favorite cookies are lemon drops cookies. I normally buy them around the holidays but yesterday I put on my apron and decided to make some on my own.
Not only are they easy to make, they are also really delicious. My family so LOVES me right now.
Lemon Drop Cookies Recipe
Author:
ThisMomCanCook.com
Ingredients
2 cups all-purpose flour
1 cup powdered sugar
¼ tsp baking powder
¼ tsp baking soda
1 cup butter – softened
2 tsp lemon juice
1 tsp grated lemon peel
Instructions
In a medium to large mixing bowl, beat butter and ¾ cup powdered sugar until fluffy. Add the lemon juice and lemon peel until well blended and set aside.
In a separate bowl add flour, baking powder, baking soda and salt. Mix well.
Add flour mixture to butter mixture in ½ increments and blend at medium speed about 1 to 2 minutes or until blended.
With dough, create small 2 inch balls and place on cookie sheet lined with parchment paper.
Bake at 300 degrees for 20 minutes or until bottom of cookies are lightly golden brown.
Remove from oven and cool on cookie sheet for 5 minutes, the move to wire rack.
Sprinkle or dip your cookies in remaining powdered sugar to create the powdered cookie look.
Pop a cookie in your mouth and enjoy.
For those that make cookies for the holidays to give as gifts, this might be one you might want to add to your list to bake!
Check out more pictures for my Lemon Cookies Recipe on Flickr.
28 Flares
Tweet
Email to a friend
28 Flares
×