This is a Sponsored post written by me on behalf of Post Great Grains Cereal for SocialSpark. All opinions are 100% mine.
In the morning when I wake up I know that eating a healthy breakfast is going to get me on the right path. Breakfast gives my body the fuel it needs to start my day started. If I skip a meal I normally am grumpy so eating a healthy breakfast makes me feel great!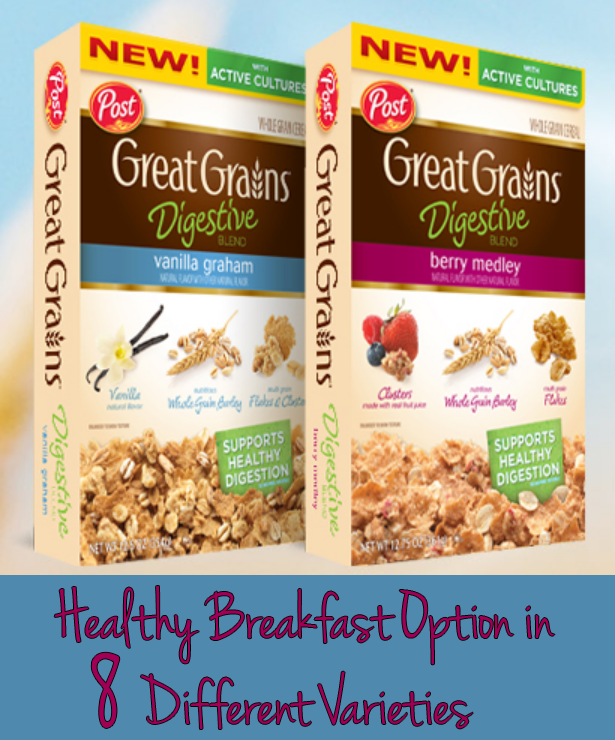 For those of you that enjoy cereal as one of your breakast options, Post Great Grains Cereal is a great option. Their cereal brings whole foods from the field to your bowl! The Post Great Grains are available in eight different varieities including:
Great Grains Digestive Blend Berry Medley
Great Grains Digestive Blend Vanilla Graham
Great Grains Protein Blend Honey, Oats & Seeds
Great Grains Protein Blend Cinnamon Crunch
Great Grains Cranberry Almond Crunch
Great Grains Crunchy Pecans
Great Grains Raisins, Dates & Pecans
Great Grains Banana Nut Crunch
I can't wait to try all eight of these varieties. Which ones do you want to try?
For more information visit Great Grains on Facebook.
Great Grains is the cereal that shows the ingredients you put inside can help you feel and look great on the outside. Great Grains surveyed 1,000 women Nationally to ask "what makes you great." Here are some interesting findings from this survey.
Women reveal why getting older feels great:
73 percent of women have reinvented themselves after turning 40.
80 percent of women love themselves more now than they did 10 years ago.
Take a peek at this video from Post asking "What Makes You Great?"…
Even though I am getting OLDER I feel great. I have a family, I have friends and I have a business where I can stay at home and take care of my kids. I may not be rich but I am living the dream which makes me great!
What Makes You Great?