Making your own homemade danishes and strudel doesn't have to be as hard as you might think it is! It can be a little time consuming if you make your own dough so I like to make mine using the Pillsbury Pizza Dough that you can buy in a tube at the store which makes it easy to make my Braided Apple Strudel in just minutes.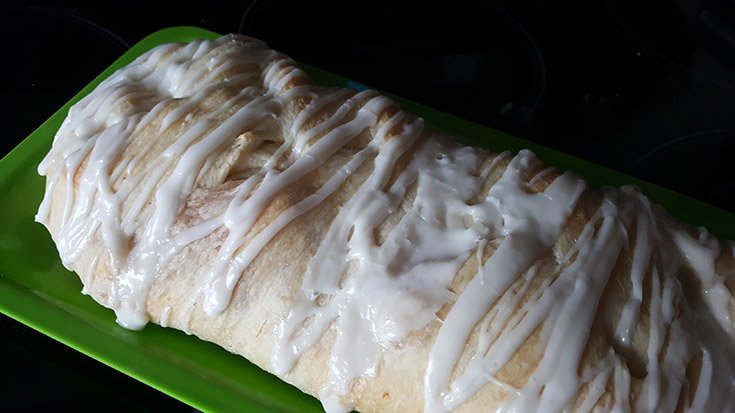 The first thing you will want to do is peel and dice 3 apples. I use green apples but you can use whatever apple is your favorite. Next add those apples into a medium sized pot along with the butter, sugar and cinnamon. You will cook the apples in the butter over medium heat for about 5 minutes until they are soft. Remove pot from stove and set aside to allow apples to cool for a few minutes.
While the apples are cooling you will want to prepare the dough to be braided. Roll the pizza dough into a rectangle and then make 2″ cuts down the side, about 1″ apart from each cut. Next make the cream cheese filling that you will spread first. This is made with cream cheese, sugar, lemon juice and vanilla extract. That is placed down the center and then topped with the soft cinnamon coated apples.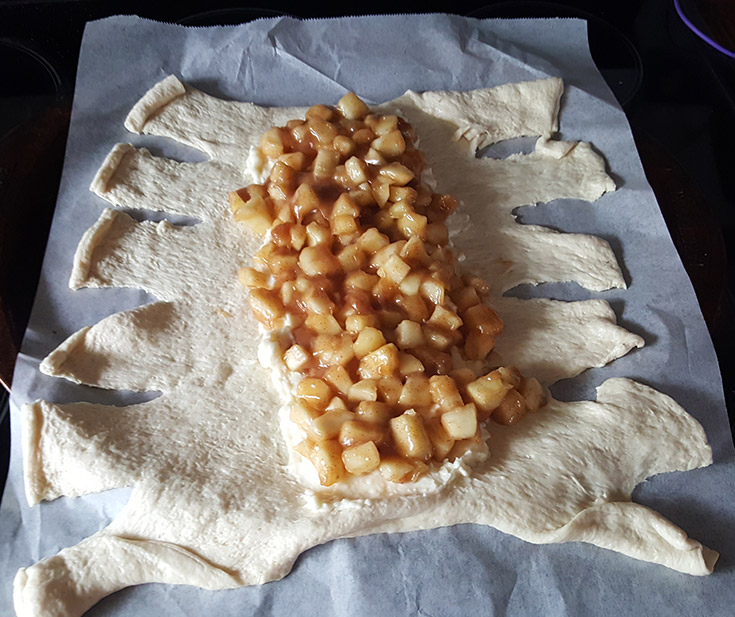 Once your apple and cream cheese filling is in place you will take the cut dough and crisscross each of the pieces to create a braided apple strudel and be sure to pinch the ends to make a seal.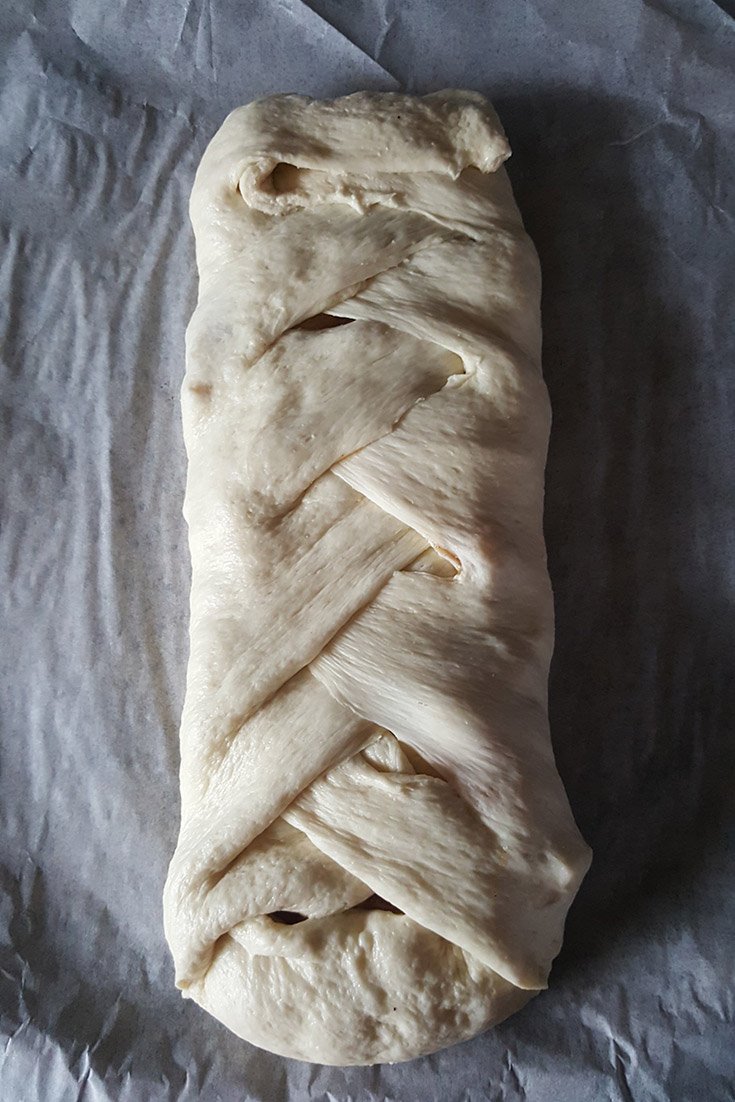 You will then place your braided strudel in the oven and bake it 350° F degrees for 15-20 minutes or until golden. Don't overcook or the outside of your strudel will be a little hard. Be sure to keep an eye on it starting around 15 minutes for the best results.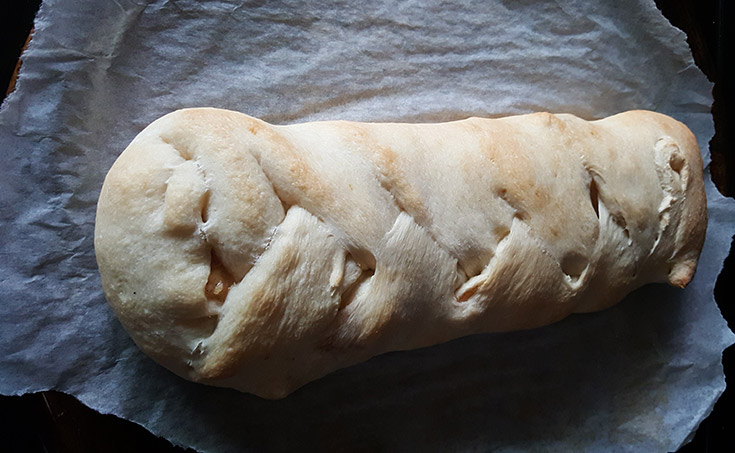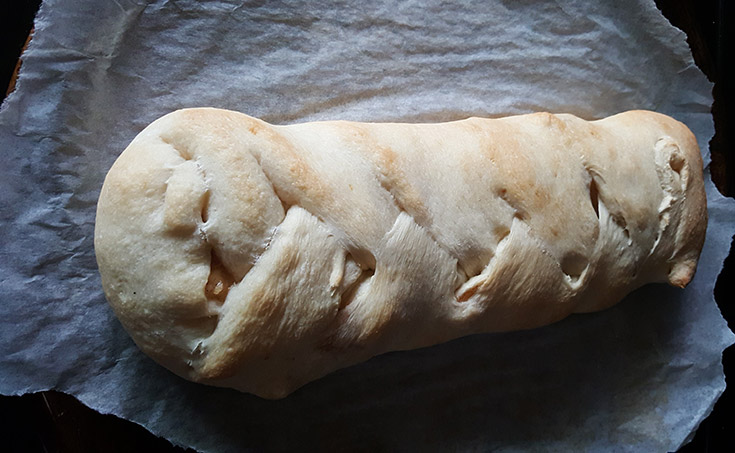 Remove from oven and drizzle some glaze over to make a Glazed Braided Apple Strudel! A simple glaze can be made with mixture of powdered sugar, milk and vanilla extract.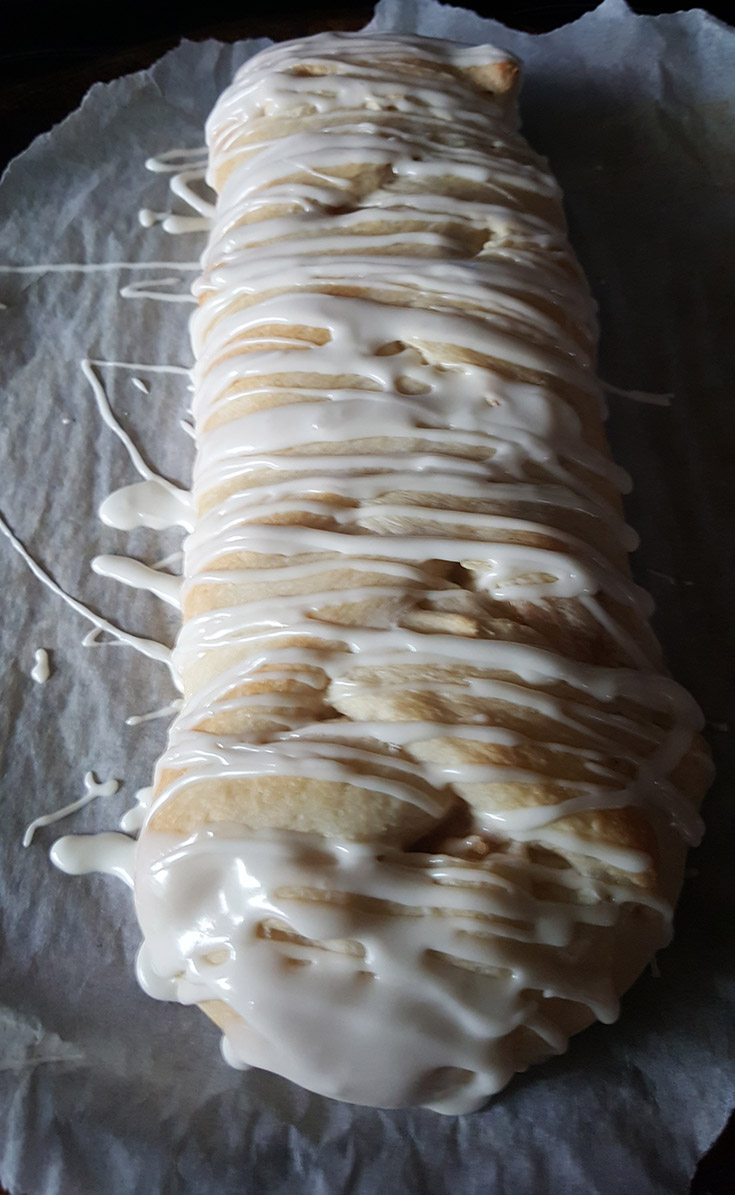 Now if you really wanted to get created you could add a drop of food coloring in your glaze to make colored braided apple strudels. I think I may want to try pink or purple on my next one….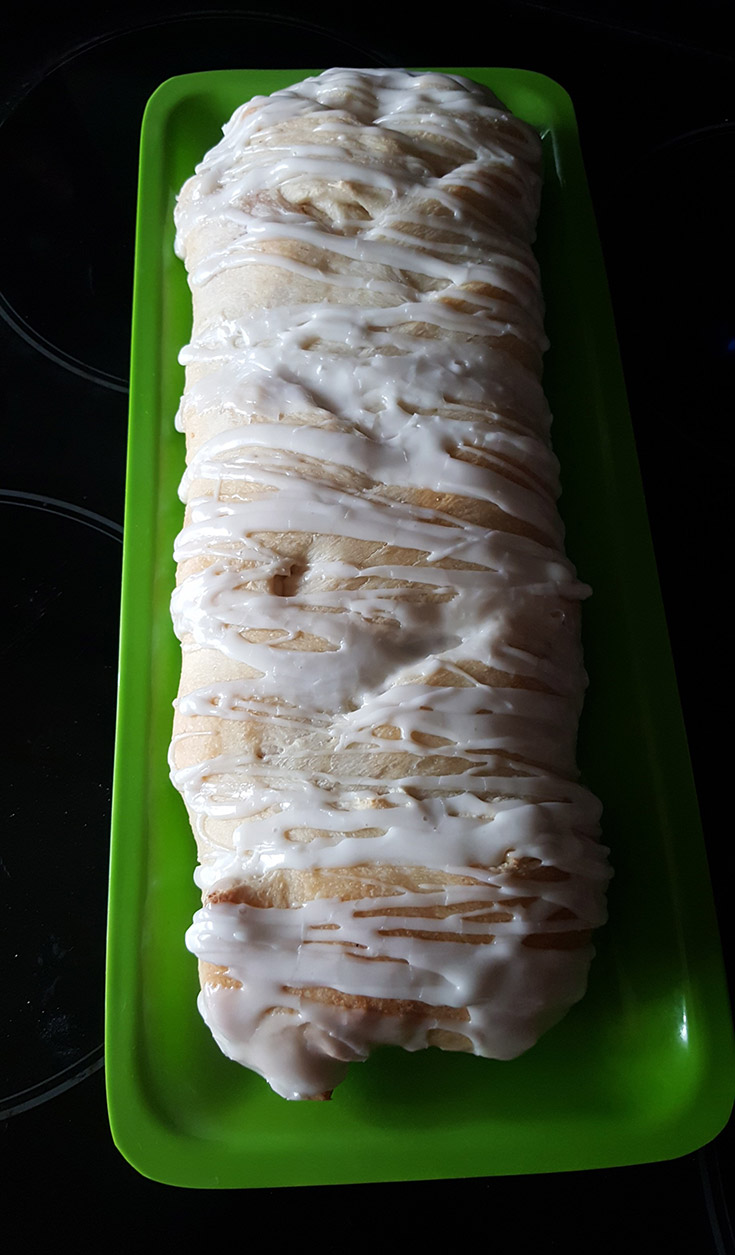 Want to make one of these easy and YUMMY Braided Apple Strudels? Be sure to PRINT my recipe below: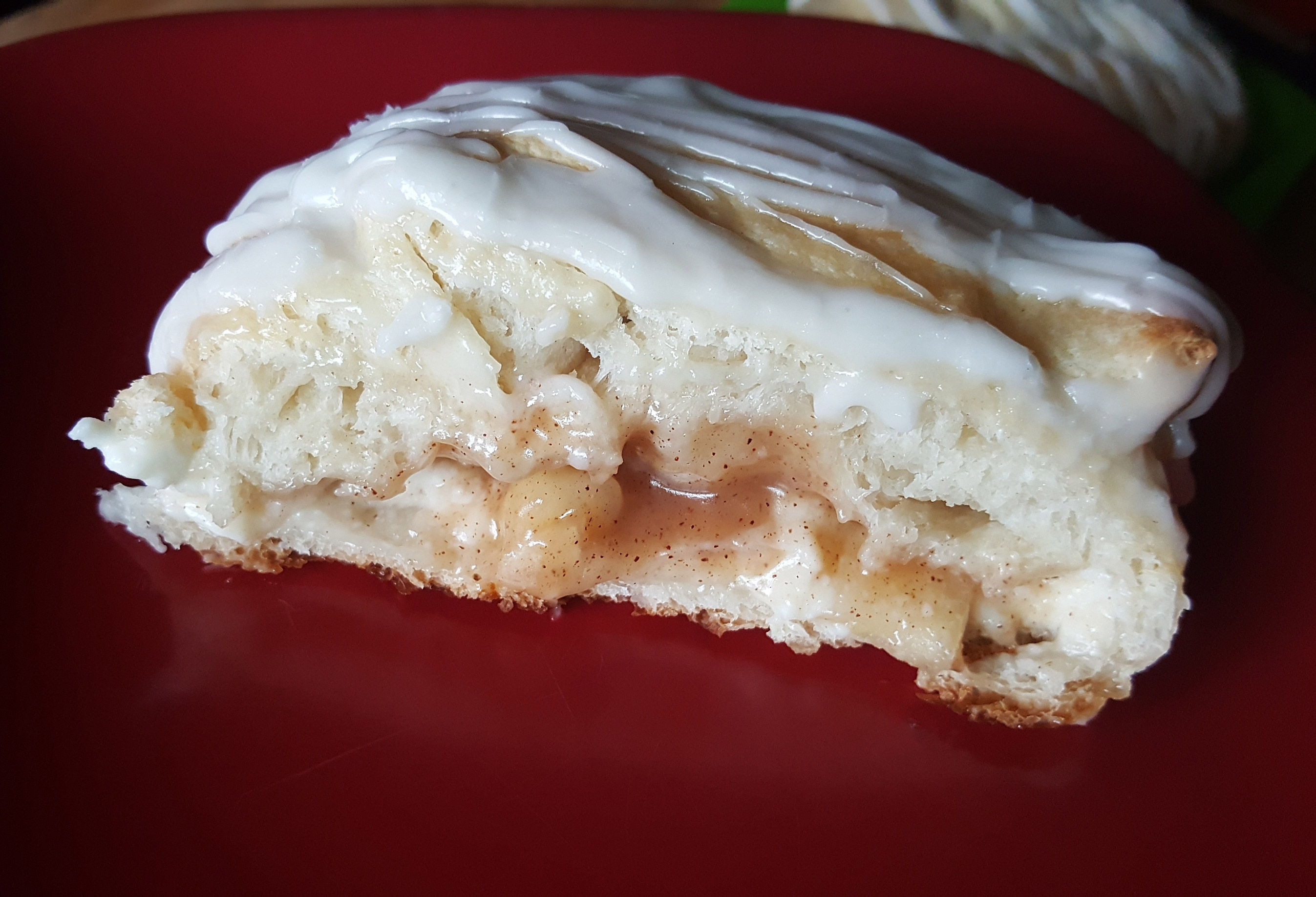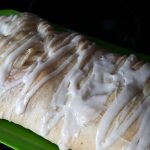 Braided Apple Strudel Recipe
A recipe for an easy to make Braided Apple Strudel.
Ingredients
1

can

Pillsbury Pizza Crust

6

oz

cream cheese (room temperature)

for cream cheese filling

1/3

cup

sugar

for cream cheese filling

1

tbsp

lemon juice

for cream cheese filling

1

tsp

vanilla extract

for cream cheese filling

3

apples (peeled & cubed)

for apple filling

4

tbsp

butter

for apple filling

1/2

cup

sugar

for apple filling

1

tsp

cinnamon

for apple filling

4

tbsp

water

for apple filling

1

cup

powdered sugar

for glaze

3

tbsp

milk

for glaze

1

tsp

vanilla extract

for glaze
Instructions
In a medium pot add the 4 tablespoons of butter and melt over medium heat. Add apples, sugar, cinnamon and water. Cook over medium heat until apples are soft (about 5 minutes). Remove from heat and set aside.

Next make your cream cheese filling. In a bowl add the cream cheese, sugar, lemon juice and vanilla. Mix until ingredients are well blended. Set aside.

Roll your pizza crust dough into a rectangle. Make 2" diagonal cuts down the side about a 1" inch apart.

Spread the cream cheese filling down the center of the dough. Next add the apple filling on top of the cream cheese filling.

Take the cut flaps of the dough and crisscross the strips over the filling to create a braided look. Pinch edges to seal.

Bake at 350° for 15-20 minutes, until your strudel is slightly golden. While apple braid is in the oven make your glaze. In a bowl add the powdered sugar, milk and vanilla extract. Stir and mix well. If glaze is too runny add a small amount of powered sugar until you reach desired consistency.

Once you remove your braided apple strudel from oven, allow to cool for 2-3 minutes. Take your glaze and drizzle it down your strudel. Slice and enjoy.