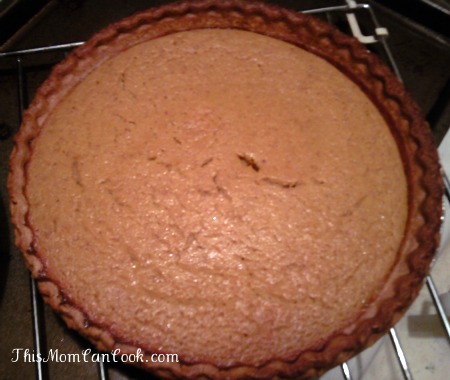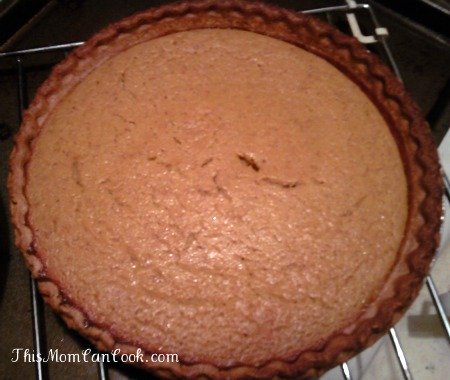 Last year I made pumpkin pies from a can. At that time, I thought I was making pumpkin pie from scratch. I was wrong. To make a pumpkin pie from scratch, you need to start with a pumpkin.
Here goes my version of homemade pumpkin pie recipe…
Ingredients:
2 cups pumpkin puree – directions below
1 can (12 oz) evaporated milk)
1/2 Cup packed brown sugar
1/2 Cup white sugar
1/2 tsp salt
2 eggs
2 tsp cinnamon
1 tsp ground ginger
1/4 tsp nutmeg
1/4 tsp cloves
1 crust – make your own or buy one frozen
Directions:
To make the pumpkin puree, take a small to medium size sugar pumpkin and cut it in half. Remove the stem, seeds and all that stringy stuff. I used an ice cream scoop which worked perfect to clean it out. You will want to place the pumpkin cut side down on a cookie sheet and cover with foil. You will then want to bake the pumpkin at 425 degrees for 45 to 90 minutes. Your pumpkin will be done when you can easily pierce the pumpkin with a fork. My pumpkin took about 90 minutes. Once your pumpkin is done, you will want to let the pumpkin cool off and then peel off the skin.
Once you have your pumpkin with no skin, you will want to cut the pumpkin into chunks and throw into a blender. This is me being lazy though. I love being lazy so I used my smoothie machine. I then threw in the rest of the ingredients and blended away until smooth.
Pour into pie shell and bake at 425 degrees for 15 minutes. Reduce temperature to 350 degrees and bake another 40 to 50 minutes. Your pie will be done when you insert a knife and it comes out clean. (You can see my knife mark in my picture above, lol).
Cool on a wire rack for at least 2 hours. I prefer mine chilled with whip cream.
Enjoy!