For those that enjoy french toast, check out this recipe for Corn Flakes Crusted French Toast with Berry Maple Syrup courtesy of Chef George Duran and IMUSA.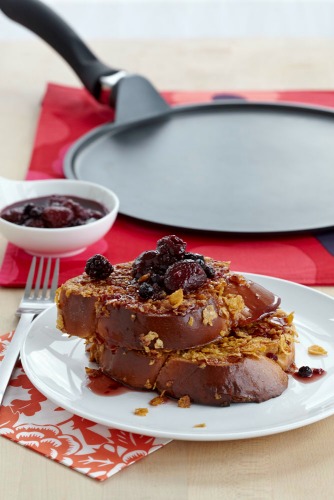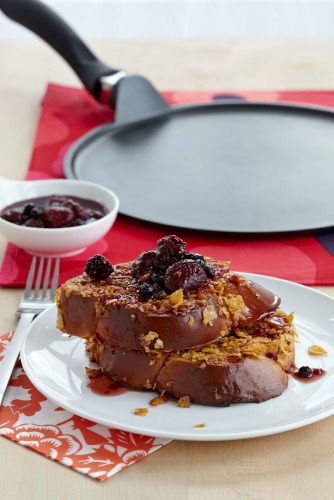 Chef George Duran puts a sweet twist on the traditional French Toast recipe with this delectable, mouth-watering treat that's perfect for indulging at breakfast or for dessert!
Here is the recipe for those that want to try this!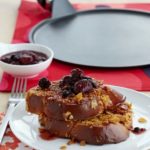 Corn Flakes Crusted French Toast with Berry Maple Syrup
Ingredients
For Berry Maple Syrup:

2

C.

frozen mixed berries

1

C.

maple syrup

For French Toast:

3

eggs

½

C.

milk

1

tsp.

vanilla

½

tsp.

kosher salt

¼

tsp.

ground cinnamon

Pinch

nutmeg

6 ¾-

inch

slices challah or other egg bread

3

C.

corn flakes

2-3

Tblsp. Butter
Instructions
Make the berry maple syrup by combining the berries and maple syrup in a small saucepan and let it to come to a simmer, mixing occasionally. Simmer for 5 minutes, turn off heat and set aside.

In a large bowl beat the eggs with the milk, vanilla, salt, cinnamon, and nutmeg. Add the bread slices one by one and allow them to soak up the mixture on both sides for about 30 seconds each. Place aside.

Place corn flakes in a re-sealable plastic bag and crush with your hands. Place in a shallow dish and coat both sides of soaked bread slices with the corn flakes. Heat your <a href="http://www.target.com/p/imusa-cast-aluminum-comal-black/-/A-10827922?ref=tgt_adv_XSG10001&AFID=Google_PLA_df&LNM=%7C10827922&CPNG=Kitchen&kpid=10827922&LID=PA&ci_src=17588969&ci_sku=10827922&gclid=CLr0xJzBgrkCFUmi4AodmnAAgA">IMUSA Cast Aluminum Comal</a> on low heat. Working in batches and adding more butter as necessary, cook the bread for 2-3 minutes on each side or until golden brown. Serve with berry maple syrup. Enjoy!