When it comes to BBQ'ing one of my favorite side dishes to make is macaroni salad. The options are almost endless. There are so many different foods that you can add to make your own macaroni salad creation.
I recently received from fresh organic vegetables from Farm Fresh To You and I couldn't wait to use the celery and the purple bell peppers in a macaroni salad.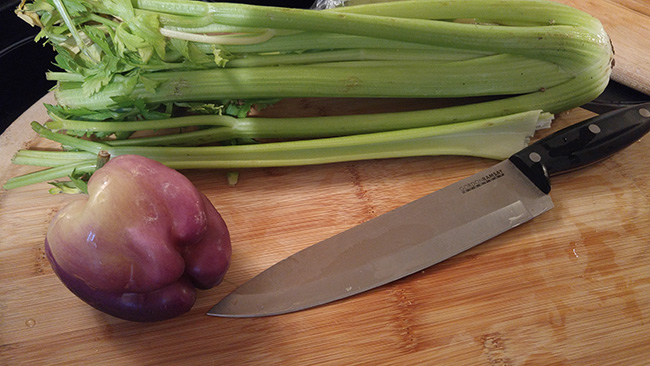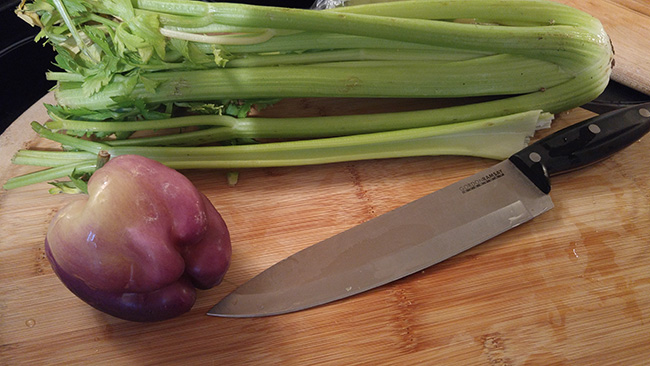 I also have been wanting to try using a pack of Hidden Valley Ranch mix in with a macaroni salad to see what type of creation I could make. We were BBQ'ing last night for dinner which was the perfect opportunity for me to make a macaroni salad for a side dish.
I made 2 cups of some Ditalini pasta, cut up two stalks of celery, diced a purple bell pepper and even diced up some Pepperjack cheese and put all of the ingeredients into a bowl.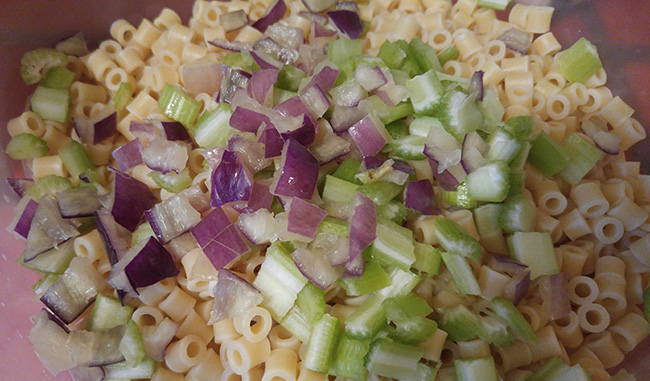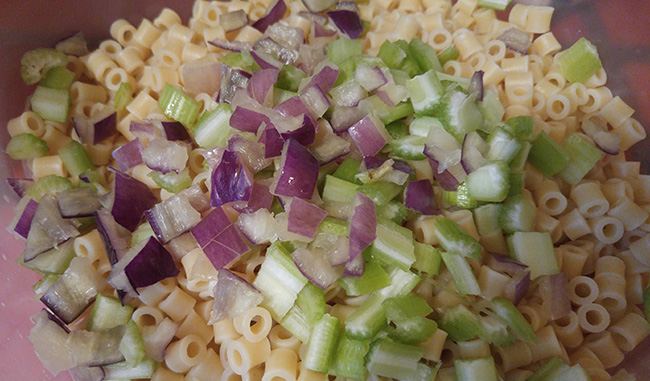 Next I added 1 package of the Hidden Valley Ranch mix with 3/4 cup mayonnaise and then mixed it with the ingredients in the bowl to make a delicious macaroni salad with cheese recipe that was a hit with the whole family.
It was so good that I am already getting requests to make it again. I didn't tell anyone my secret ingredient either!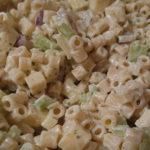 Easy Macaroni Salad With Cheese Recipe
Ingredients
2

cups

Ditalini pasta

1

purple bell pepper

2

celery stalks

1

cup

pepperjack cheese

cubed

1

packet Hidden Valley Ranch Mix

3/4

cup

mayonnaise
Instructions
Cook pasta according to directions (al dente). Rinse with cold water.

Wash bell pepper and celery and cut into small pieces.

In a large bowl add Ditalini pasta, bell pepper, celery and cheese.

In a small bowl add mayonnaise and Hidden Valley Ranch mix. Stir and mix well.

Add mayonnaise mix to pasta and stir to blend ingredients.

Serve immediately!
This is just one of many of my recipe creations with pasta! Looking for another yummy recipe with pasta? Be sure to try my Avocado Bacon Pasta Salad that is also super delicious!