We like bacon and we like meatloaf therefore I had to make the family a bacon wrapped meatloaf.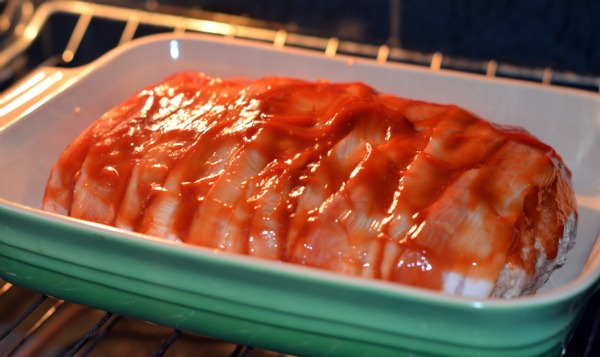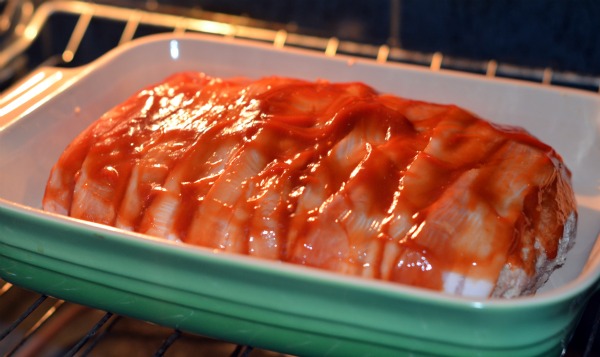 (my meatloaf right when I put it in the oven)
Now this wasn't my first time making a meatloaf wrapped in bacon, I actually made one last year that I BBQ'd. With this meatloaf I cooked last week, I used a couple ideas I got from The Pioneer Woman's meatloaf recipe and added some of my own. I got quite a few compliments and I thought it was so good I had meatloaf leftovers for breakfast the next morning.
Here is my version of a bacon wrapped meatloaf….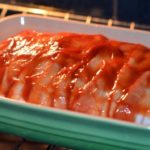 Bacon Wrapped Meatoaf Recipe
Total Time
1
hour
10
minutes
Ingredients
3/4

cup

milk

6

slices

of bread

2

pounds

lean ground beef

1/4

cup

Parmesan cheese

1/4

tsp

seasoning salt

1/4

tsp

garlic powder

4

eggs beaten

10

slices

of thin bacon

2

sticks of celery

1/4 to 1/2

small white onion

1/2

Pringles Original flavor

crushed

3/4

cup

bread crumbs

1

cup

ketchup

for sauce

1/3

cup

brown sugar

for sauce

1

tsp

dry mustard

for sauce
Instructions
Use a food processor and chop celery and onion.

In a bowl add ketchup, brown sugar and dry mustard. Mix to create a sauce and set aside.

In a bowl, add 6 slices of bread and pour milk over bread and set aside to allow milk to absorb into bread.

In a large bowl add ground beef and parmesan cheese and mix. Add remaining ingredients and knead mixture to form into a meatloaf shape.

Take bacon and wrap around meatloaf overlapping each piece and tucking in the bacon on the bottom on each side.

Pour 1/2 of sauce mixture over top and spread to cover bacon.

Cook at 350 degrees for 45 minutes. Remove from oven and cover with remaining sauce.

Cook an additional 15 to 20 minutes until done.

Enjoy!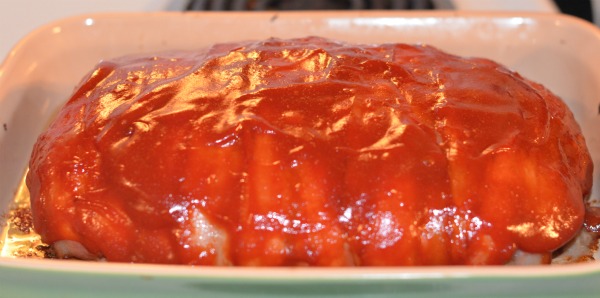 My meatloaf out of the oven.. YUM!