One thing that is popular at parties is dips. How about a cheesecake cake batter dip that you can dip some fruits or graham crackers in?
My family LOVES my Strawberry Cheesecake Cake Batter Dip. Even my friends have asked for the recipe. What I like about this dip is that it is super easy to make and doesn't need to many ingredients.
You can choose to dip whatever you want with it but I prefer chocolate graham crackers. My kids prefer the graham cracker shapes to dip them in.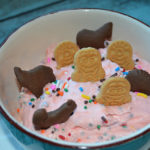 Strawberry Cheesecake Cake Batter Dip
Ingredients
1/2

cup

white cake mix

1/2

cup

cheesecake dessert mix/pudding

1/2

cup

Trumoo Strawberry Milk

2

cups

whipped topping

1/2

tsp

vanilla

1/4

cup

sprinkles

3

drops red food coloring

optional
Instructions
In a large bowl add all of the dry ingredients.

In another bowl add the remaining ingredients and mix well.

Combine both mixtures until blended.

Put dip in a decorative bowl and add sprinkles.