One thing that everyone in my family LOVES is cupcakes. One thing that I always think of during the month of November is food with pumpkin in it! I am a big fan of pumpkin pie and love pumpkin bread. Since I have kids, mom has to turn her love for pumpkins into something that everyone will enjoy, pumpkin cupcakes!
When I make my own pumpkin bread or cupcakes, I have to add nuts. Almost every time I am in the baking isle at the store and looking for say walnuts or pecans, I choose to buy the Diamond of California nuts. I remember eating Diamond of California Nuts in a can often when I was a child at my grandparents and the brand has always stuck with me.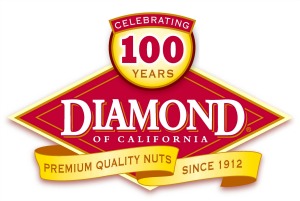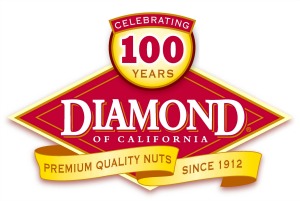 100 years of holiday traditions you just don't mess with. Classic family recipes call for a classic ingredient. Diamond of California nuts. The only nut good enough for your mom's mom's recipes is the only one that should be in yours. Diamond of California. Premium quality nuts since 1912.
If you visit the Diamond of California Nuts Facebook fan page, you can find some YUMMY looking recipes that have some fun holiday-centric names that make you want to try them. I want to try their Pecan Pumpkin "Gets the Kids to Make the 10-Hour Drive" Pie recipe. Look below, doesn't it look delicious?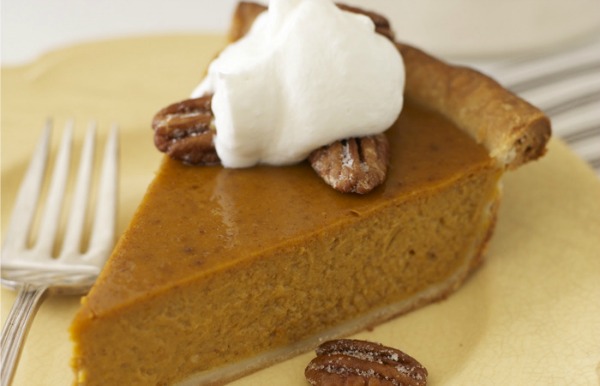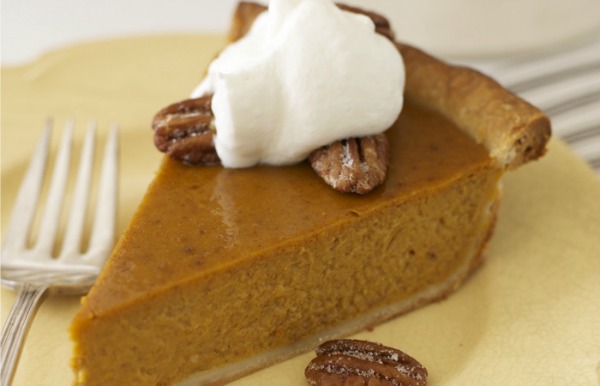 Here are some other fun Diamond of California classic family recipes listed that you might be tempted to try:
Apple Walnut "The One They Bed You to Make" Cake
Chewy Walnut "Tears Them Away From the Game" Squares
Walnut "Always Gets Them Out of Bed" Bread
Pecan "Gets the Grandkids to Act Saintly" Dainties
You can find the recipes listed above by visiting the Diamond Nuts Recipe Gallery on Facebook!
Since it is November and many of you are looking for ideas for the holidays, I thought I would share my Spiced Pumpkin Pie Cupcakes Recipe. This recipe includes some of the Diamond of California chopped pecans. Then to spoil our taste buds, I like to make a cream cheese frosting that includes bischoff spread.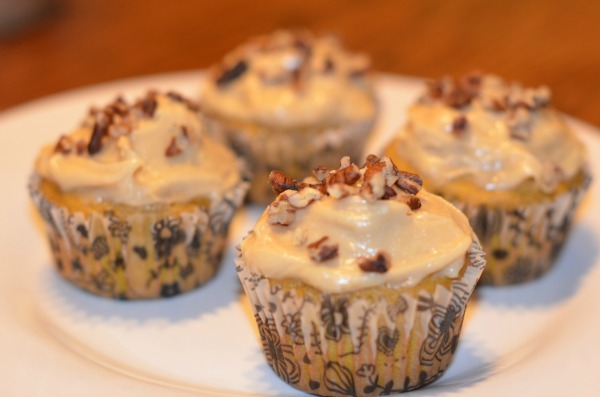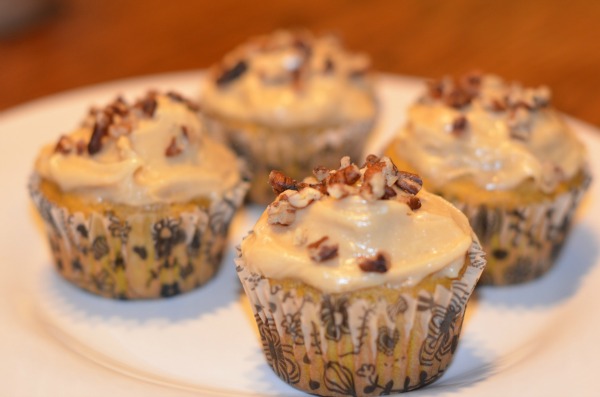 Here is my Spiced Pumpkin Pie Cupcakes recipe: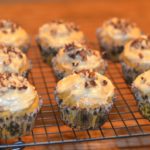 Spiced Pumpkin Pie Cupcakes With Bischoff Cream Cheese Topping
Ingredients
1 1/2

cups

all purpose flour

1/4

cup

milk

1

tsp

baking soda

1 1/2

tsp

baking powder

1/4

tsp

salt

3

tsp

pumpkin spice

1/2

cup

unsalted butter softened

1

cup

pureed pumpkin

3

eggs

8

oz

cream cheese softened

1

cup

Diamond of California Chopped Pecans

3

tbs

biscoff spread

1 1/2

cups

powdered sugar
Instructions
In a bowl whisk flour, baking soda, baking powder, salt and pumpkin spice.

In a mixing bowl, beat sugar and butter until fluffy. Slowly add in eggs, milk and 3/4 cup of the chopped pecans until well blended.

Line cupcake pan with cupcake liners and fill 2/3 full. Bake at 350 degrees for 20 minutes or until toothpick comes out clean.

While cupcakes are cooking, make the frosting. In a bowl, beat the cream cheese, powdered sugar and biscoff spread until smooth.

Once cupcakes are cool, top with frosting and use remaining 1/4 cup of chopped pecans to create a nut topping.

For those of you that are on Pinterest, I have created a Thanksgiving Recipe Ideas Board that have recipes that include some of the Diamond of California Nuts. These are recipes that include appetizers, side dishes, desserts and more!
For more recipe ideas that include Diamond Of California Nuts, visit: www.diamondnuts.com