This past few weeks have been BUSY. Not only did my kids start school, so did I. This semester I am enrolled full time and one of the classes that I am taking is a Pastry/Baking class. Our first assignment was to make some Sour Cream Streusel Coffee Cake. I was excited because coffee cake is something I enjoy eating!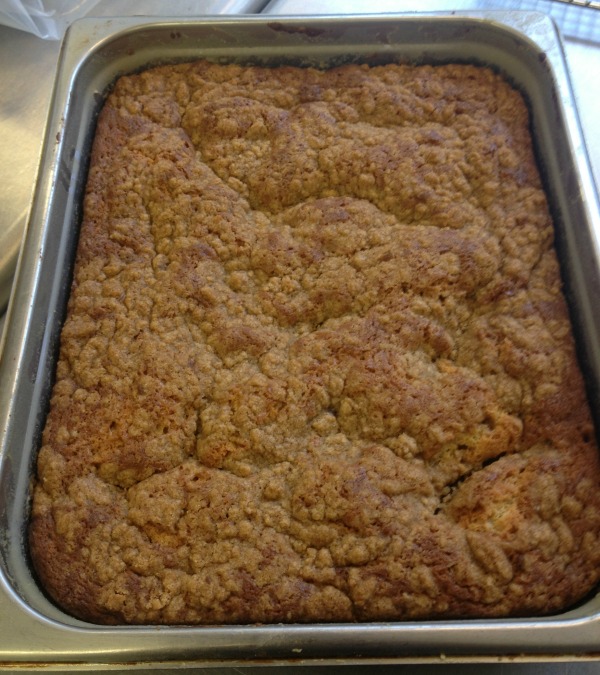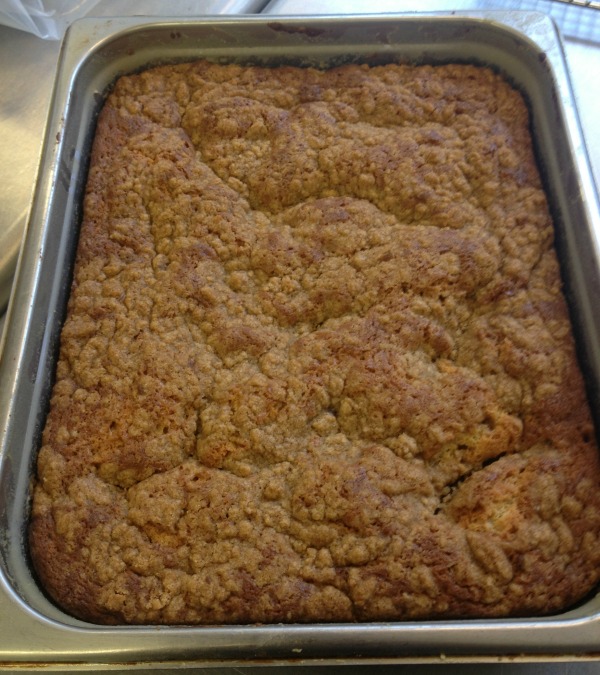 This cake came out THICK and delicious. I have been wanting to make it again ever since we made this cake in class. In class we use a scale when measuring our ingredients. Here is the recipe for those of you that want to try this coffee cake recipe too!
Cake ingredients:
8 oz butter (room temp)
4 oz sugar
4 oz brown sugar
5 oz eggs (room temp)
1 tsp Vanilla extract
10 1/2 oz Pastry flour
1 tsp baking soda
1 tsp baking powder
7 oz sour cream
Cinnamon Butter Filling ingredients
2 oz all purpose flour
4 oz brown sugar
1/2 tsp cinnamon
2 oz butter (melted)
Streusel Crumb Topping ingredients
6 oz all purpose flour
5 oz brown sugar
1/2 tsp cinnamon
1/8 tsp salt
5 oz butter (firm)
Directions:
Prepare cinnamon butter filling by combining dry ingredients. Stir in melted butter until crumbly and the consistency of damp sand. Set aside.
Prepare streusel crumb topping by combining dry ingredients. Using a pastry blender to cut in butter until crumbly. Set aside.
Using the paddle attachment with your mixer, cream together the pliable butter and sugars on medium speed until light and fluffy, approximately 5 minutes. Scrape well twice during the mixing process.
Whisk together the eggs. On low speed, add the eggs in 2 stags, scraping between additions.
Sift together the remaining dry ingredients.With the mixer off, add one half of the dry, mix to incorporate. Scrape well.
With the mixer on low speed, add the sour cream, mix just to incorporate. Scrape well. Add the remaining dry ingredients, mix to incorporate. Don't over mix.
Spread half of the batter into a sprayed and floured 1/4 sheet pan.
Sprinkle cinnamon butter filling on top. Dot the remaining batter on top and spread evenly.
Top with streusel crumb topping. (You might not need all of it).
Bake at 375 degrees for 35-45 minutes. Test for doneness by inserting a toothpick in center of the cake. If it comes out clean, with a slight moist crumb clinging to it, it is done.
Enjoy!