There are some days when you want to get creative in the kitchen. Forget your normal spaghetti and go with a change this year! Try this Roasted Cauliflower & Chickpea Whole Wheat Spaghetti Bowl that is perfect for the veggie lovers and a great meal to try on Meatless Mondays!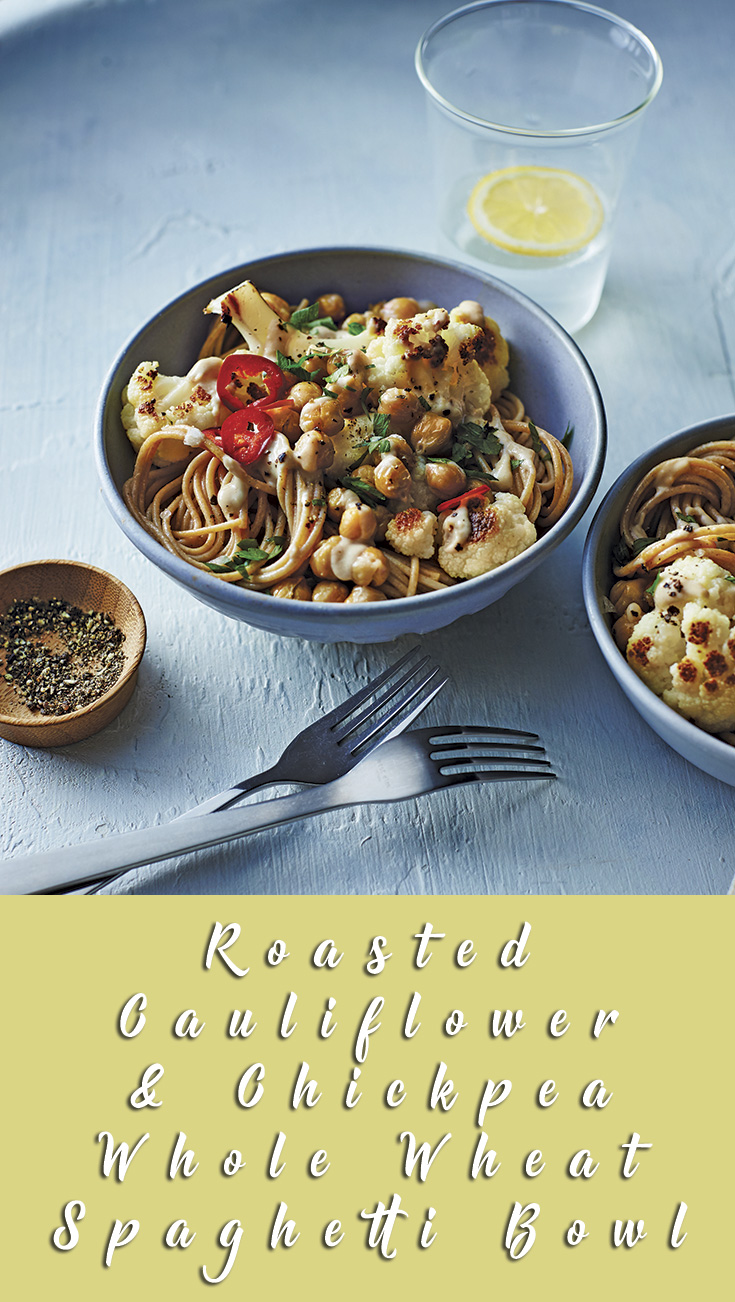 This one-bowl meal is an ideal option for healthy meals on the go: It comes together quickly and can be made ahead. It gets wonderful texture from the chickpeas and cauliflower, nuttiness from the whole-wheat pasta, and rich umami flavor from the miso and tahini. You'll find the miso paste in the refrigerated produce section and tahini in the international aisle.
Roasted Cauliflower & Chickpea Whole Wheat Spaghetti Bowl
Ingredients
1

small head cauliflower

broken into 1-inch florets

about 31/2 cups

1

15-ounce can unsalted chickpeas (garbanzo beans), rinsed

and drained

2

tablespoons

olive oil

1/2

teaspoon

freshly ground black pepper

1/4

teaspoon

kosher salt

1/4

cup

water

3

tablespoons

white miso paste

2

tablespoons

tahini

1

tablespoon

fresh lemon juice

1

garlic clove

6

ounces

uncooked whole-wheat spaghetti

½

cup

firmly packed parsley leaves

1

red chile pepper

thinly sliced
Instructions
Preheat the oven to 425°F. Combine the cauliflower, chickpeas, oil, black pepper, and salt in a large bowl. Spread the mixture in a single layer on a baking sheet; bake at 425°F for 20 minutes or until the cauliflower is tender and lightly browned.

Place ¼ cup water, miso, tahini, lemon juice, and garlic in a mini food processor; process until smooth.

Prepare the pasta according to the package directions, omitting the fat and salt. Drain. Divide the noodles evenly among 4 bowls. Top evenly with the cauliflower mixture. Drizzle evenly with the miso dressing; top evenly with the parsley and sliced chile.
This recipe is from the Everyday Vegetarian, a cookbook by the Editors of Cooking Light that will help vegetarians and meat-eaters alike transform fruits, vegetables, and whole grains into nutritious, hearty meals.