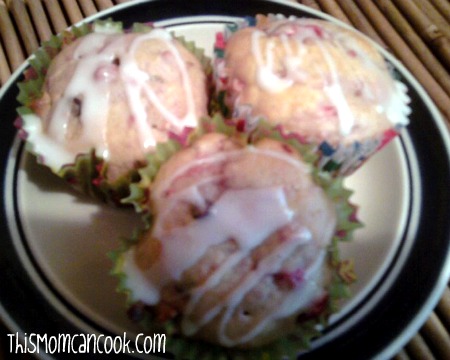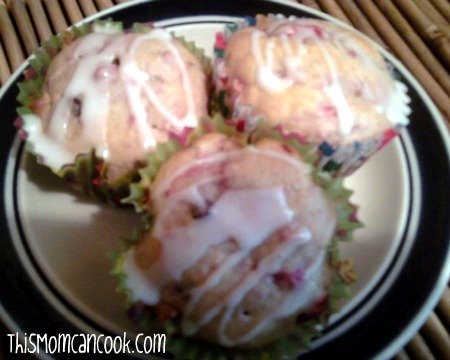 Today I made some of the BEST muffins that I have ever made. Normally I keep things pretty simple and basic. Today, these muffins go a little gourmet! I can't take credit for this YUMMY recipe though, I adapted this recipe from NancyCreative.
Ingredients for batter:
1 cup fresh raspberries
1/3 cup semi chocolate mini chocolate chips
1/4 cup chopped walnuts
1 package (8 ounces) of regular cream cheese softened
5 TBS butter softened
1 1/2 cups sugar
2 TSP vanilla extract
1/2 cup milk
2 large eggs
2 cups unbleached all-purpose flour
1 TSP baking powder
1/4 TSP baking soda
1/2 TSP salt
Ingredients for glaze:
1 cup powered sugar
2 TBS milk
Directions:
In a medium or large bowl, mix cream cheese and butter until well blended. Make sure that the butter and cream cheese are softened for best results. Add sugar and stir until mixture is fluffy. Add the vanilla extract, eggs and mix well.
In a different bowl, combine the flour, baking powder, baking soda and salt. Add this mixture to other bowl and blend well.
Add milk, then slowly add the raspberries, chocolate chips and nuts.
Pour batter into paper lined muffin tins about 3/4 full.
Bake at 350 degrees for 25 minutes (or until center of muffin comes out clean when toothpick is inserted. Remove muffins from tin and let cool completely.
Drizzle glaze on top of each muffin
Enjoy!