On Saturday I attended the KidzVuz Back To School Bash in NYC where LG was a sponsor and an area where the kids or anyone else that wanted to participate could put together cute bento box style lunch ideas. Being the foodie that I am, I wanted to participate and made the Funky Monkey lunch idea.
I think mine came out pretty cute!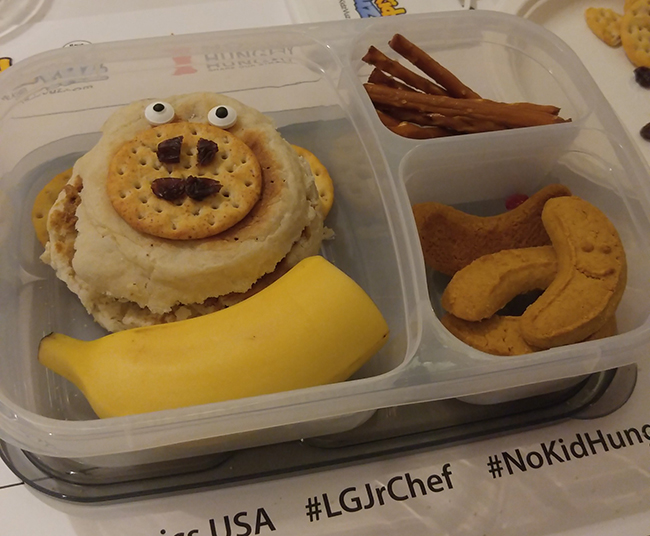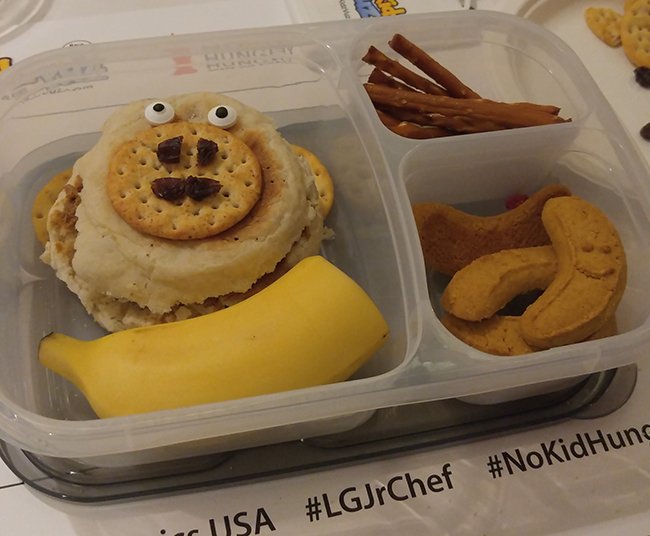 This Funky Monkey meal idea comes from Jill Mills from Kitchen Fun With My Three Sons that has an awesome blog with some fun recipes for geared towards kids. I have some recipe cards for a few other meal ideas of Jill's that I want to try and will post like her Hoo's Hungry meal that is geared for those that love owls.
What made this meal even more special was by creating this meal and sending a tweet, I helped a good cause. At the event if we built a lunchbox creation and shared it on Twitter using the #LGJRChef hashtag, LG would donate $10 to the #NoHungry campaign. I made sure to send my tweet.
Now for the recipe for those that want to make this yummy and cute monkey bento box meal: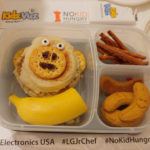 The Funky Monkey Bento Box Lunch Idea
Ingredients
1

English Muffin

3

Wheat Crackers

2

Raisins

2

Candy Eyes

1/2

Banana

Pretzel Rods

Gerber's Banana Cookies

Sunflower Butter

Jelly
Instructions
Toast the english muffin.

Spread sunflower butter and jelly between slices.

Place two crackers in between the sides of the english muffin and one cracker on top.

Cut a raisin in half and place them on top of the cracker for the monkey's nose.

Cut the other raisins in half and share the halves into a mouth.

Place two candy eyes above the cracker.

Cut a banana in half and place it below the monkey sandwich.

Add pretzel rods and banana crackers.