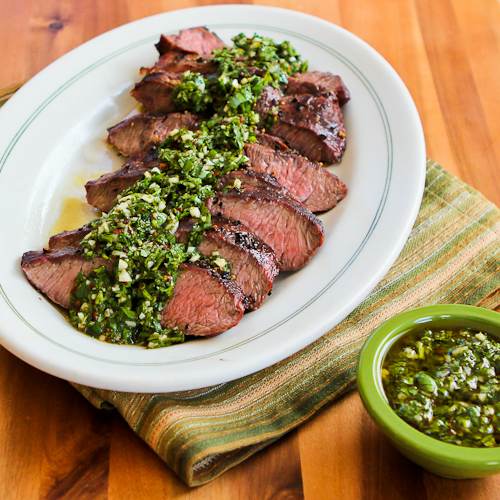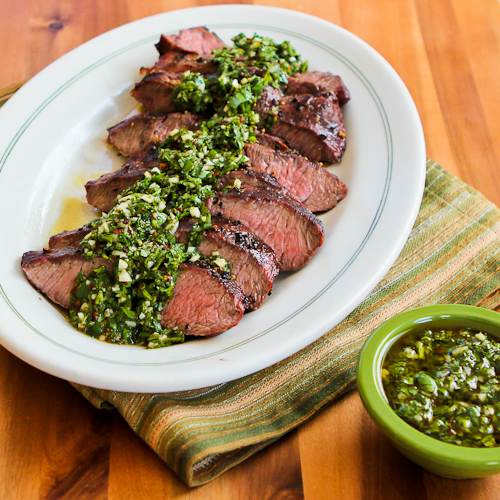 Even though summer is officially over, that doesn't mean we can't still enjoy a nice steak on the grill right!?  This mouth-watering steak recipe is perfect for fall – bursting with flavors from the zesty Chimichurri sauce and savory Vidalia onions, it makes for a perfect meal that the whole family can enjoy. Make sure to slice the steak thinly and serve with a generous amount of Chimichurri sauce (ah perfection) – bon appétit!
For the Meat Marinade:
1 cup chopped fresh curly parsley
3 tablespoons minced shallot
2 tablespoons chopped fresh rosemary
1 tablespoon chopped fresh thyme
1 garlic clove, minced
1 teaspoon pink peppercorns, crushed
Extra-virgin olive oil
1 Hangar Steak
For the Chimichurri Sauce:
3/4 cup extra-virgin olive oil
1/2 cup chopped fresh curly parsley
1/2 cup chopped fresh cilantro
3 tablespoons minced shallots
1 tablespoons red pepper flakes
1 tablespoon minced garlic
Kosher salt
1/4 cup sherry vinegar
For the Grilled Vidalia Onions:
1 Vidalia onion, cut into 1/2-inch thick rings
Olive oil
Kosher salt
Freshly ground black pepper
To Assemble the Dish:
Flaky sea salt, such as Maldon
Smoked salt
Freshly ground black pepper
Directions:
Make the Steak: Combine all herbs, shallots, garlic, and peppercorns in a small container and cover with enough EVOO to cover the herb mixture. Add steak and marinate overnight or up to one day ahead.
Make the Chimichurri Sauce: In a medium bowl mix together the olive oil, parsley, cilantro, shallots, pepper flakes, garlic, and salt. Cover and refrigerate for at least 2 hours or up to 1 day. Right before serving, add the sherry vinegar.
Make the Grilled Vidalia Onions: While the steak is resting, toss the onions rings with some olive oil, salt, and black pepper. Grill the onions on the Opti-grill, until cooked through, 4 to 5 minutes. Finely chop the onions and combine with the chimichurri.
Recipe courtesy of Chef Marc Forgione and T-fal…