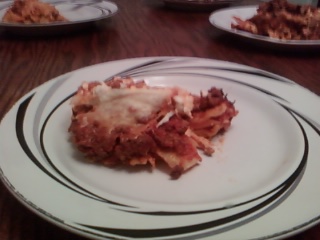 This picture serves the meal no justice, but hey its a picture!
If you ever thought you could not make lasagna in the crock pot, you are WRONG. My husband was teasing me yesterday telling me that I could not make lasagna in the crock pot and I proved him wrong. Everyone loved the dish and I took the leftovers over to my cousin. Felt good feeding my family as well as hers.
Here goes the recipe!
Ingredients:
1 package lasagna noodles – uncooked
1/2 pound Italian sausage – cooked and drained
1 pound ground beef – cooked and drained
2 cups cottage cheese
2 cups Mozzarella cheese
1/2  cup water
1 jar spaghetti sauce – large
Directions:
Line the bottom of your crock pot with a few layers of uncooked lasagna noodles.
In a pot, mix your spaghetti sauce, ground beef and sausage.
Use about half of your sauce mixture and cover the layer of noodles in crock pot.
Now spread half of the cottage cheese over the top of the sauce mixture/noodles .
Slowly pour the 1/2 cup water on top
Now sprinkle 1 cup of Mozzarella cheese on top.
Repeat the above steps 1-6, to create a second layer of lasagna but OMIT the water.
Put on the lid and let cook on low for 4 to 6 hours
Enjoy!