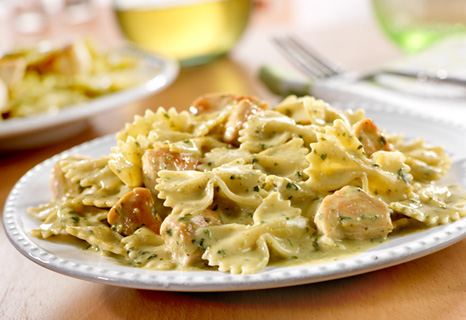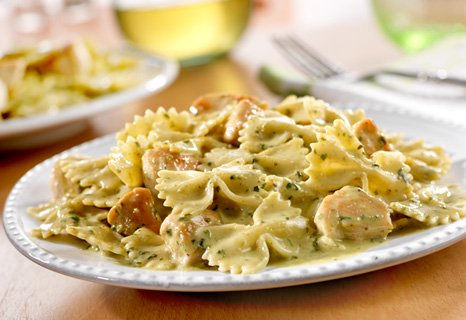 I found a recipe while browsing the Campbell's Kitchen website last night that I had to try. So today I ventured out to the store to get a few ingredients I needed. I have never made or cooked with pesto, so I was unsure how it was going to come out. While it was cooking, my daughter Hailey told me it smelled good. Boy, was I hoping it was going to taste good. To my surprise, it turned out AWESOME and my children ate all their food on their plate! I even heard "can I have seconds".  Score, I have hand written this recipe on an index card and put it in my box of recipes to cook again.
Now for the recipe…..
Ingredients:
2 tablespoons butter
4 skinless boneless chicken breast halves cut into cubes (about 1 pound)
1/2 cup Pesto Sauce
1 can (10 3/4 ounces) Campbell's® Condensed Cream of Chicken Soup
1/2 cup milk
3 cups bow tie pasta, cooked and drained (I used the mini bow tie pasta)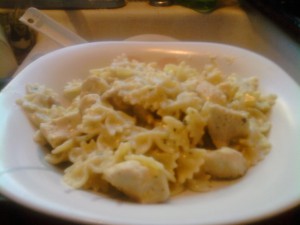 (A picture of My Creamy Pesto Chicken)

Directions:
In a 10 inch skillet, heat butter until melted and add chicken. Cook the chicken in the butter until well browned. Be sure to stir often.
Once chicken browned, add the soup, pesto sauce and milk and bring to a boil. Once at a boiling point, reduce heat to low and cook for 5 to 10 minutes.
Stir in cooked bow tie pasta and cook until mixture is well mixed and hot!
This is definitely something I plan on making again. I served this with a side of white rice……..