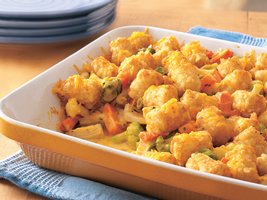 Last week I was browsing the Betty Crocker website in search for new recipes to cook. I found one that I thought my whole family would eat (especially my husband). This meal was a hit with no leftovers and I didn't even get to take my own picture. Below is my version of Cheesy Tater Tot Chicken Casserole.
Ingredients:
Tater Tots – Around 4 cups
1 bag (24 oz) Green Giant® frozen broccoli, carrots, cauliflower and cheese-flavored sauce
1 can Campbells Cheddar Cheese
1 cup shredded sheese
2 cups cooked chicken breast – cut in small pieces
Directions:
Place the package of Green Giant vegetables in a casserole dish (11×7) and cook 3 to 5 minutes to melt the cheese sauce. Be sure to stir at least once in between cooking.
Add chicken, can of cheddar cheese and stir.
Top chicken mixture with tater tots
Bake at 375 degrees for 45 minutes. Remove and top tater tots with shredded cheese. Cook an additional 5 minutes to allow cheese to melt.
Enjoy!
This recipe was adapted from the Betty Crocker website's Cheesy Tater-Topped Chicken Casserole.