One thing that is good melted is marshmallows! While S'mores are something I really like, they tend to be messy. Here is another recipe from FamilyFun Magazine for a Sweet and Toasty Parfait that just might be better than S'mores and requires no flame.
This recipe requires only 3 ingredients!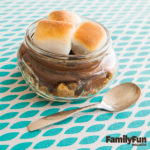 Sweet And Toasty Parfait
Ingredients
3

marshmallows

3

tbsp

graham cracker crumbs

1/4

cup

chocolate pudding
Instructions
Place marshmallows on a parchment-lined baking sheet and broil on high for 1 minute.

Place graham cracker crumbs in an 8-oz. glass or jar.

Add chocolate pudding and top with the marshmallows.
Like this recipe? Check out the Chocolate Dipped BonBons recipe I posted earlier this month.