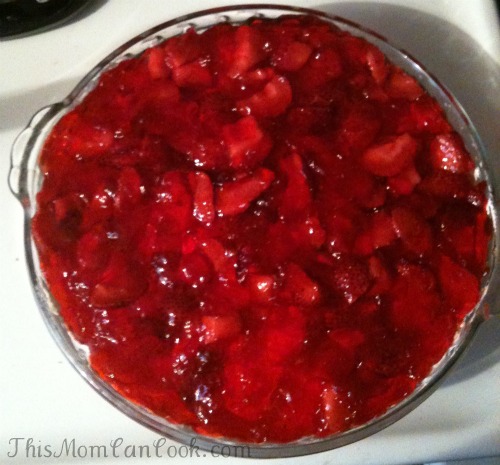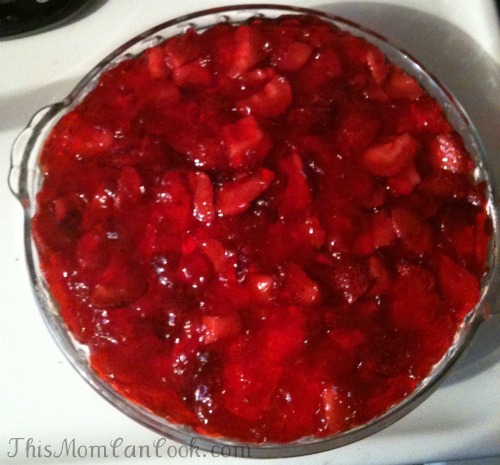 Yesterday we BBQ'd for some friends and I thought I would make a dessert dish for my guests that was both new and different. I had a yummy looking recipe that I bookmarked on the MomStart blog for Tasty Treat Thursday Strawberry Jell-O Pretzel Salad. I put my baking hat on yesterday and produced my Strawberry Jello-Pretzel Pie.
Ingredients:
2 cups pretzels – smashed into small pieces
1 6oz package Strawberry Jell-O
1 pound fresh strawberries (sliced)
3/4 cup butter melted
3 TBS granulated sugar
1 cup powered sugar
1 container (6 oz) whipped topping (Cool Whip or other brand) – room temperature
8oz cream cheese – room temperature
Directions:
Combine the crushed pretzels, 3 TBS of sugar and the melted butter. This is going to be your crust, so mix well.
Bake crust on 350 degrees for 10 minutes and cool completely.
While crust is cooling, combine cool whip, powdered sugar and cream cheese and mix well. (Set aside)
Mix 2 cups of boiling water, Jell-O package and sliced strawberries. Place in freezer about 1 hour to cool or until it starts to form like gel.
Add cool whip mixture on top of pretzel crust and make smooth.  (You will have extra)
Add strawberry  mixture on top of cool whip mixture and make smooth (do not mix).
Enjoy!
I had this Strawberry Jello-O Pretzel Pie in the fridge for a couple hours before we ate it. I am hoping that it tastes even better today!