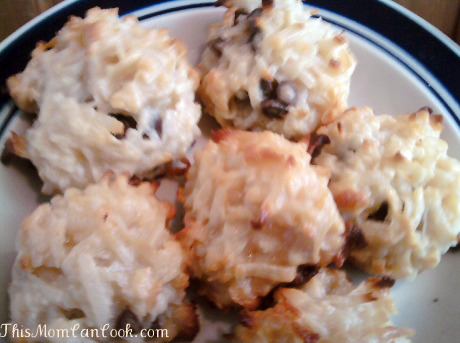 Who says I can't have my chocolate in my coconut macaroons. Since I have been wearing my "baking hat" quite often this past week or two, I thought I would come up with something creative. I like coconut and I LOVE chocolate. These came out BETTER than expected. My husband LOVED them and so did I! Check out my recipe for Chocolate Chip Coconut Macaroons…….
Ingredients:
2 cups flaked coconut
1/2 cup mini semisweet chocolate chips
1/3 cup all-purpose flour
1 teaspoon salt
2/3 cup sweetened condensed milk
1 teaspoon vanilla extract
Directions:
In a small bowl, mix the flour, coconut and the salt.
Add the condensed milk and vanilla and stir until well mixed. The dough will be stiff.
Drop by tablespoons onto greased cookie sheet (or nonstick). What you will want to do is create a small hole in center of your dough, add about 5 of the mini chocolate chips and place a small amount of dough on top of each cookie.
Bake at 350 degrees for approximately 15 minutes or until cookies are golden.
Enjoy!