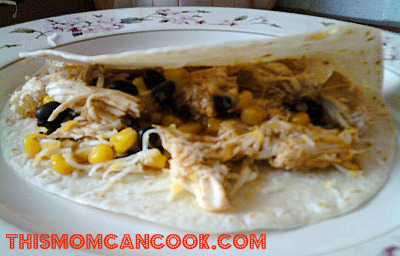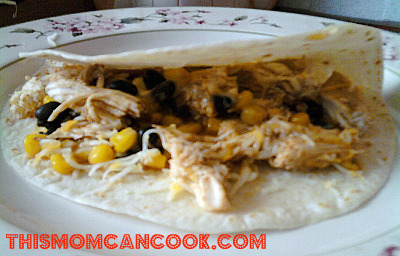 I have been wanting to try out a new crock pot recipe for a weeks now. With the kids being on summer vacation, my schedule didn't have much time for testing out any new recipes. The kids are back in school and I am now back into cooking mode,  looking for new recipes to try out with my husband and kids. I found a recipe on the Betty Crocker website  a few days ago and made my own modifications…. and here we have my recipe for Slow Cooker Chile-Chicken Taco Filling (that kinda rhymes)….
Ingredients:
2 lbs boneless skinless chicken breast
1 package taco seasoning
1 tbs brown sugar
1 cup petite sweet corn (I used frozen)
1 can (4.5oz) chopped green chiles
1 can black beans
1 can (10 oz ) enchilada sauce
1 package of soft flour tortillas
For Garnish:
(optional) shredded cheese, shredded lettuce, chopped tomatoes, chopped green onions
Directions:
1) Place chicken in the bottom of crock pot
2) Sprinkle with taco seasoning and brown sugar and toss to coat
3) Add corn, black beans, chiles and enchilada sauce and stir to mix
4) Cook on low heat for 6 to 7 hours
5) Take chicken breast from slow cooker and use 2 forks to pull the chicken into shreds. Put shredded chicken back into to slow cooker and cook on low heat for an additional 15 to 20 minutes.
6) Serve chicken mixture into warm tortillas and add your favorite garnishes