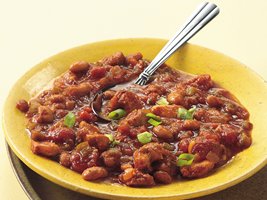 Yesterday, I made chili with chicken for the first time. It turned out delicious and I was left with NO leftovers. I am definitely going to make this again. If you like chicken and you like chili, be sure to try this chicken crock pot recipe too!
Ingredients:
1 cup chopped white onions
1 medium green bell pepper, chopped in pieces
4 Roma Tomatoes (cut and diced)
3 cloves garlic, minced
3 tbs cornmeal
2 tbs chili powder
3 tsp oregano
1 tsp cumin
1/2 tsp sea salt
1 1/2 lbs  boneless skinless chicken breast, cut into 1-inch pieces
1 jar (16 oz) salsa (medium)
1 can (15oz)  pinto beans (drained and rinsed)
Directions:
In your crock pot, mix bell peppers, onions and garlic
In a large bowl, mix the cornmeal, chili powder, oregano, cumin and salt. Once mixed, add chicken and toss to coat. Pour chicken mixture into crock pot.
Stir in salsa, beans and tomatoes
Cover and cook on Low for 6 to 8 hours
Serve with cornbread and enjoy!
This recipe was adapted from Betty Crocker's Slow Cooker Southwestern Chicken Chili!