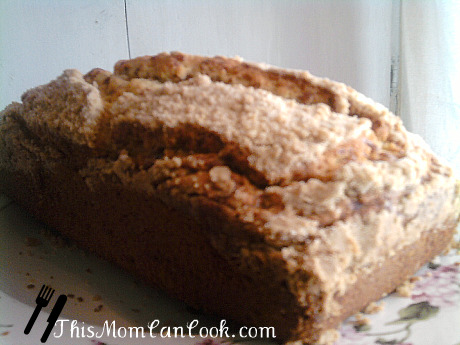 Looking for a quick treat that your family will love? I cooked this yummy bread this morning and it was gone within an hour. I was even surprised that my 6 year old really liked it and wanted more …
Here goes the recipe for some Quick Cinnamon Streusel Bread…..
Ingredients:
1 Box of  Betty Crocker Cinnabon Cinnamon Streusel Muffin (includes streusel topping)
1/3 cup all-purpose flour
1/2 cup water
1/3 cup vegetable oil
2 eggs
Directions:
Preheat oven to 375 degrees
In a bowl, add muffin mix, flour, water, oil and eggs until blended.
Grease bottom of an 8×4-inch loaf pan and add batter
Sprinkle top of batter with Cinnabon Streusel topping
Bake 40 to 50 minutes. The top of bread should be golden brown. Test inside by inserting a toothpick to see if it comes out clean.
Cool for 15 minutes. Once cooled take knife around edges of pan and remove bread.
Enjoy!