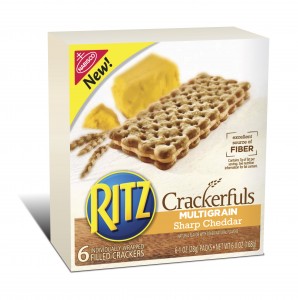 When it comes to snacking, cheese and crackers can sometimes really hit the spot. This is especially true if you have a box of Ritz Crackerfuls on hand…..
This month I have had the opportunity to try the Ritz Multigrain Crackerfuls. The Ritz Multigrain Crackerfuls are the same as a regular Ritz Crackerful but made with multigrains. These crackers are made with real cheese, 5 grams of fiber and 8 grams of whole grain per serving. They are sold in a box of 6 individually wrapped crackers.
We tried the three multigrain varieties and I LOVE them all. For me, I can't just eat one either. Once I eat one of these YUMMY crackers, I have to have another one. Maybe they will come out in 2 packs in the future. We tried the Sharp Cheddar, Garden Vegetable and Garlic Herb flavors. I am a fan of cheddar, so of the three varieties that I tried, the Ritz Multigrain Sharp Cheddar Crackerfuls are my FAVORITE!
Ready to buy some? Be sure to visit the Ritz Crackers Facebook page to print a coupon to Save $.75 cents OFF Ritz Crackerfuls.
You can find out more about these crackers by visiting Nabisco at: www.nabiscoworld.com.
Disclosure – I received the items mentioned above to provide you with this review. This post is not a paid post and the opinions stated herein are 100% my own.