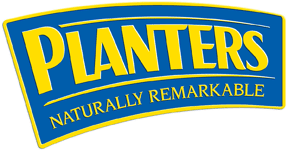 One thing that we are constantly stocking the pantry with each month is peanut butter. For me, I like both
creamy peanut butter as well as the crunchy peanut butter. I have grown up with the Planter's brand from eating peanuts from glass jar to spreading peanut butter on some bread for a sandwich.
With Planters Peanut Butter you have a few different options. In addition to the creamy and crunch, they have a delicious natural creamy peanut butter that I am really enjoying using. I have tried other natural creamy peanut butters and after trying Planters, both my husband and I prefer the Planters Natural Creamy Peanut Butter over all the others I have tried in the past.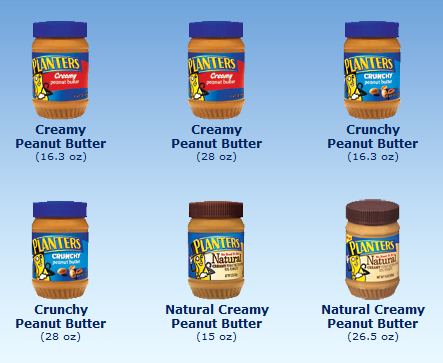 Above is a picture of the different varieties as well as their sizes. Most of the time, we buy the bigger size jars since we it often. I like that you don't have to stir the Natural Creamy Peanut Butter like you do with some of the other "natural peanut butters", it is a good source of protein and also that it is available in the BIG 26.5 oz size.
Here is some nutritional information per 2Tbsp of peanut butter:
180 calories per
15 grams total fat
150mg sodium
Here are some links to some interesting recipes that you can use with Planter's Peanut Butter
In addition to using peanut butter on sandwiches and goodies like peanut butter cookies, I also like it on some of my fruits and vegetables. Celery + Planter's Creamy Peanut Butter is YUMMY!
For more info on Planters, visit: http://www.planters.com
Now For Planter's Prize Pack Giveaway – OVER
One LUCKY reader is going to receive 3 Jars of Planters Peanut Butter to try too!
Please enter the giveaway by using the Rafflecopter below:
Disclosure – I received the products featured above to facilitate you with this review .This post is not a paid post and the opinions stated herein are 100% my own.