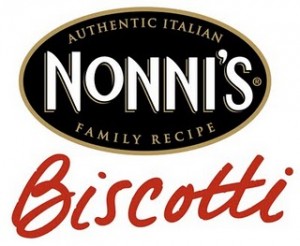 I have a new love for Biscotti!
Up until this last week, I never really thought much of Biscotti. I have heard the word, but never knew just how good a piece of Biscotti could be. That is up until I took my first bite of a Nonni's Turtle Pecan Biscotti. Don't get me wrong, there are other Nonni's Biscotti that are good, but this one is SUPER GOOD in my opinion.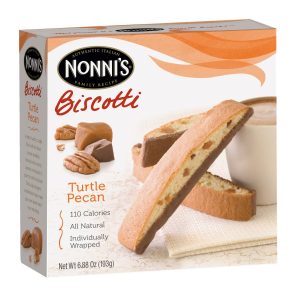 The Nonni's Turtle Pecan Biscotti could be described as a light crunchy cookie that is filled with the finest pecans available, blended with creamy caramel and dipped in gourmet milk chocolate. This is an awesome combination that will have you eating more than just one.
While these are great for dipping, they are great alone as well. They are individually packaged in the box and have a calorie value of only 110. These yummy treats are also All Natural!
Nonni's Biscotti is made with real eggs and butter, making them rich in flavor, light and crunchy in texture, and delicately sweet. They are baked twice, then individually wrapped to ensure that the cookies you get are exactly as Nonni intended them- fresh tasting and of the highest quality.
We also received for review some of the other flavors that include: Cioccolati Biscotti, Decadence Biscotti, Originali Biscotti and Classic Almond Biscotti. We LOVED them all….
If you are looking for a bite size Biscotti, try the Nonni's Biscotti Bites…. We received some of these and they were just as good, just a small version.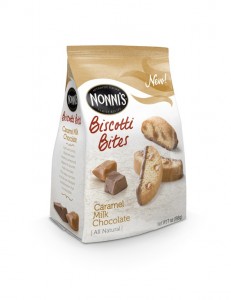 Be sure to "Like" Nonni's Biscotti on Facebook for your chance to WIN a Nonni's Biscotti jar filled with Nonni's Biscotti plus coupons or even a $100 Amex card to "Treat Yourself". They are having giveaways that are daily, weekly, monthly and a grand prize trip for 2 to Italy.
You can find out more about Nonni's Biscotti products by visiting: http://www.nonnis.com.
Disclosure – I received the products featured above to facilitate you with this review .This post is not a paid post and the opinions stated herein are 100% my own.