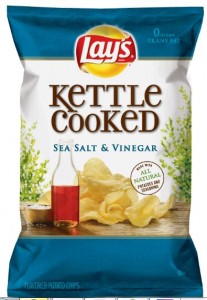 I have found my  new favorite potato chip. I now have this thing for sea salt & vinegar potato chips. I remember when I first seen these types of chips on the shelves at the store and I thought "Yuck". Then one day a friend had a bag and offered me some. I didn't want to be rude so I grabbed one and to my surprise, it was really GOOD.
Below are a few benefits of these yummy chips:
0 Trans Fat
Gluten FREE
MSG FREE
Onion FREE
Kosher OU
I normally will just grab a bag at the gas station of whatever brand they might have. I had no idea that Lay's had come out with their own version until this last weekend. I was complaining to my husband they didn't have any of the salt & vinegar chips and he spotted the Lays chips. These might not be the perfect chip for those on low sodium diets, but they are SO good. I normally watch my salt intake so I only spoil myself with these every once in a while because I can't just eat a couple. These are the kind of chips where you end up eating the whole bag yourself!
I have always wondered the difference between table salt vs sea salt. I have been tempted to buy kosher sea salt to cook with because I have heard good things about using it. I would love to hear your opinions. Which type of salt do you prefer?