You know up until last month, I had never tried the Heinz 57 Sauce. I am a big fan of condiments and I had never tried Heinz 57 Sauce on anything.  Don't get me wrong, I have heard of it and seen the bottle on the shelves the grocery store, just never grabbed a bottle to buy. This year Heinz 57 Sauces is celebrating their 100th Anniversary, so that right there must mean that the stuff is good!
Sometimes there are those that have their favorite steak sauce and they don't want try anything else, wink wink. Well what I found out is that Heinz 57 tastes awesome on chicken. When it comes to meals that I prepare, I would say that we eat chicken  more often than all other meats. With that said, I am always looking for new ways to give it some flavor. This past month I have been using the Heinz 57 in various chicken dishes to give it some zest. The kids and the hubby have been pleased with my Heinz 57 chicken dishes too!
I will definitely be keeping a bottle on stock in my fridge!
Below is a recipe that you can find on the Heinz 57 website for Heinz 57 Chicken Turnovers.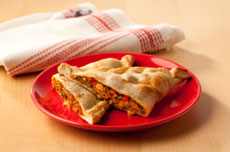 Ingredients
1 package (13.8 oz.) refrigerated pizza crust dough
1/2 cup Heinz 57® Sauce
1/2 cup prepared spinach dip
2 cups frozen cooked fajita-style chicken strips, thawed and chopped
1/2 cup chopped red bell pepper
Instructions
Preheat oven to 400°F. Coat a large baking sheet with nonstick cooking spray. Sprinkle work surface with a pinch of flour or cornmeal to prevent dough from sticking if desired. Unroll dough onto work surface and cut into 4 pieces.
In a small bowl, mix together 57 Sauce and spinach dip until smooth. Spread about 1/4 cup of Sauce mixture evenly on each piece of dough, leaving 1/2-in. around the edge. Arrange 1/2 cup of chicken and 2 Tbsp. of pepper onto one half of a dough piece. Gently fold dough over the filling to form a triangle shape. Seal the edges by crimping with fingertips or with a fork. Cut 1 or 2 slits on top of crust. Repeat with remaining dough pieces. Transfer turnovers to baking sheet and lightly coat with nonstick cooking spray.
Bake for 12 to 15 minutes, or until golden brown. Serve immediately
Enjoy
What is your favorite condiments?
Disclosure – I received the items mentioned above to provide you with this review. This post is not a paid post and the opinions stated herein are 100% my own.