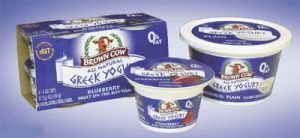 A favorite thing I like to have in my fridge at all times is yogurt. I find when I have a sweet tooth, a simple container of yogurt can satisfy those needs. One kind of yogurt that you will probably find in my fridge at all times is the Brown Cow Fat Free Greek Yogurt. I admit that when I first heard of "greek yogurt" I turned up my nose. I don't know why, but it just didn't sound good. I like Greek food, but I am one that is picky about anything dairy related. I stick to what I know and (Greek + Yogurt) just never came to mind.
So what is the difference? To me the texture and overall taste. The Brown Cow Fat Free Greek Yogurt has a more thick and creamy texture compared to the regular yogurts I am used to eating. It also comes with the fruit in the bottom. I am one that LOVES to stir my fruit to watch the colors flow. It only comes in three flavors right now (Strawberry, Vanilla and Blueberry). I am hoping to see some new flavors in the future!
I now prefer greek yogurt over the old fashioned kind!
I found this YUMMY yogurt at Walmart. Be sure to look in your dairy isle to see if your store carries it too! Be sure to get your Brown Cow coupons on their website too!
I received a free coupon to purchase a product to provide you with this review. I was not paid any monetary compensation to publish this review. This review is my personal opinion only and receiving the sample has no impact on my opinion of the product.