On average, people gain around five pounds over the festive season. All those delightful little chipolata sausages, stodgy puddings and novelty beers have to go somewhere and it tends to be the waistline. Thankfully, Christmas is now behind us. If you've made some healthy eating resolutions for the New Year, don't be despondent that it isn't salad season quite year. There are plenty of delicious, hearty and lean foods that can give your body the energy and nutrition it needs to step into a year of good health.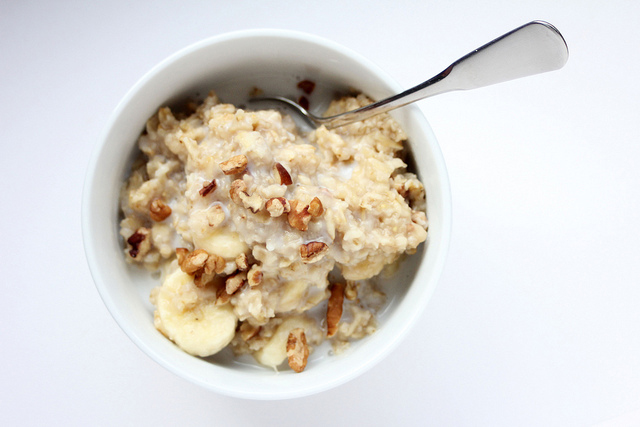 Breakfast
For the most crucial meal of the day, you'll need food that can give you a slow release of energy to sustain you without snacking. Oats are a wintry staple, and wonderfully diverse when combined with healthy toppings. Add blueberries and apple to blitz your five a day early, swirl in honey if you crave a little sweetness or sprinkle with crushed walnuts or almonds to get your day's protein in as early as possible. You'll feel so satisfied you won't even notice it's time for…
Lunch
What's more comforting on a winter afternoon than hunching over a steaming bowl of hearty soup? Low in calories, high in nutrition, it's the perfect meal to batch-cook over the weekend and portion up for workdays. For variety and protein whip up a Spanish omelette with whatever leftover vegetables you find in the fridge, or add Greek yogurt to a baked potato for a healthy alternative to sour cream.
Dinner
If every dinner ends up involving some variation on the potato, switch things up by cooking a side of healthy brown rice instead. Rice cookers take the stress out of cooking after a long day at work, and make it easy to prepare family-sized batches with little fuss. Accompany with grilled sea bass, oven-cooked salmon or pancetta-wrapped chicken breast for a delicious, healthy dinner.
Dessert
Eating healthy is all about moderation, so don't forget dessert; it's your reward after a day of good behavior Make a scummy fruit crumble with cranberries, apples or rhubarb and make your topping with oats to show a little willing. Top with reduced fat ice cream for a truly comforting end of day treat!