This is a Sponsored post written by me on behalf of Hass Avocado Board featuring Hass Avocados for SocialSpark. All opinions are 100% mine.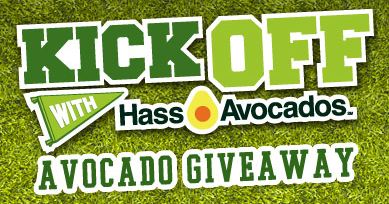 When it comes to food that grows on trees, an avocado is definitely on of my favorites. I just wish they weren't so expensive to buy sometimes when I am grocery shopping. When I find them on sale, I love making my own homemade guacamole and it can be added to so many different dishes.
Right now the Kick Off with Hass Avocados Recipe Contest is in full swing and I am thinking I should create a recipe that I can enter. Even if I didn't win, it would be a good excuse to eat some guacamole. I took a peek and there is some delicious looking avocado recipes that have already been submitted.
The Grand Prize winner of the recipe contest will win a Round trip airfare, hotel accommodations, participation in a Rose Bowl Game® Welcome Reception, admission to the "behind-the-scene" Rose Bowl Parade® decorating site, sightseeing tour of Pasadena, admission to the Rose Bowl Game® on January 2. 2012 + more!
In addition to the recipe contest, you can also enter the Kick Off With Hass Avocados Avocado Giveaway to enter win a a box of Hass Avocados. Know that I already entered this giveaway because I am one what would really enjoy a free box of avocados.
Here are some fun avocado facts:
One-fifth of a medium avocado (1 oz.) has 50 calories and contributes nearly 20 vitamins and minerals, making it a nutrient-dense food choice.
Avocados contribute good fats to one's diet.
Over 75% of the fat in avocados is unsaturated (monounsaturated and polyunsaturated fats), making them a great substitute for foods high in saturated fat.
For more info, please visit: http://sports.avocadocentral.com.