Have you heard of Breakstone's? It is a brand that is produced by Kraft Foods Incorporated that include products such as sour cream and cottage cheese. I have not seen this brand yet because it is currently sold in the eastern, southeastern and midwestern United States. I am in California and hope to see this brand come my way since we LOVE sour cream here in my home.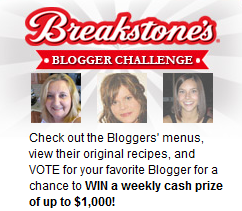 Right now Breakstone's is having a Blogger Challenge. There are currently three food bloggers that have whipped up their favorite family recipes that use the Breakstone sour cream. Right now, Breakstone needs everyone to come and vote on one of the three bloggers recipes. Each time you vote, you will be entered in their contest to win $1,000. Right now the following prizes are still left:
December 6th – $250 gift card awarded to one winner
December 13th – $500 gift card awarded to one winner
December 20th – $1,000 gift card awarded to one grand prize winner
To vote on your favorite blogger, visit: http://breakstonestriplechurned.com/challenge.php.