This is a sponsored conversation written by me on behalf of Horizon Organic. The opinions and text are all mine.
Now that my children are getting older, they are open to eating more things which make me happy. All of children from my youngest to my oldest want to also learn how to cook and help mom in the kitchen. I love when they want to help and I encourage them to do so!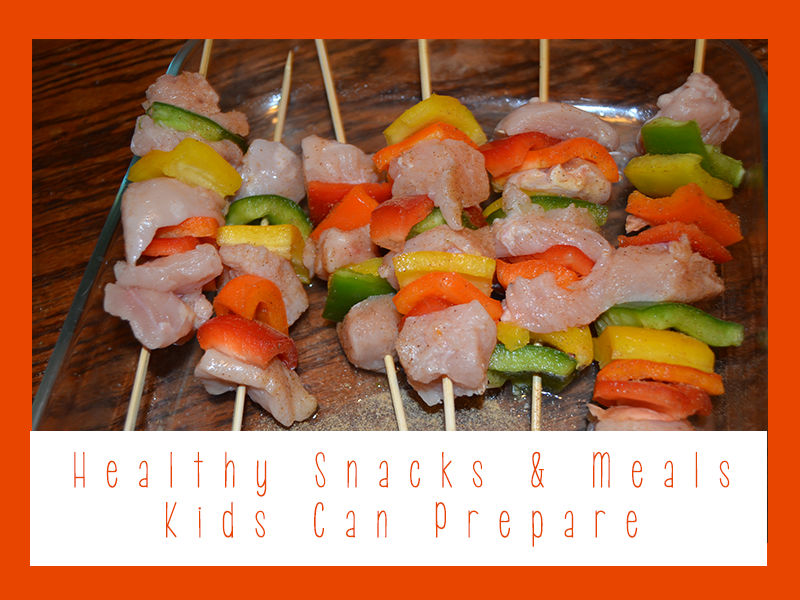 When you get your kids involved in preparing their own meals, the better chances of their food. Ask your children what types of healthy foods they like and keep on hand for when they get hungry. Below are different snack, breakfast, lunch and dinner ideas that kids can help prepare themselves.
Snack Ideas That Kids Can Prepare
Veggies & Dip – This is one of the most easiest things that your child can prepare. In your fridge be sure to keep prepared veggies like baby carrots, broccoli, cauliflower, tomatoes, cucumber, and bell peppers in easy reach. You will also want to keep small containers of your child's favorite dipping sauces too like ranch, blue cheese or maybe hummus.
Ants On A Log – Celery and peanut butter is a healthy and delicious snack that many children enjoy. Let them have some fun by filling the celery logs with peanut butter and adding raisins to look like little ants.
Trail Mix – Buy a variety of peanuts and dried fruits and let your kids make their own trail mixes. Use Ziploc bags and let them prepare their own personalized trail mixes ahead of time. When these are stored air tight, they will last for weeks.
Breakfast Ideas That Kids Can Prepare
Smoothies – If you have a child that enjoys a variety of fruit, a great drink to let them make themselves is a homemade smoothie. Drinking a smoothie can also be a great way to get your kids off to a great start in the morning.
Yogurt Parfait – If your child enjoys yogurt allow them to give their yogurt some pizazz. Let them make a parfait by adding granola and other fresh fruit to their cup of yogurt.
Instant Oatmeal – A great breakfast choice is oatmeal. Buy the instant packages and let them make their own breakfast. Encourage them to add things like fruit, nuts or even peanut butter to give their oatmeal extra flavor.
Lunch & Dinner Ideas That Kids Can Prepare
Meat & Veggie Skewers – When you are grilling outside, a great way to get your kids to eat their veggies is by having them make their own arrangement of meats and veggies on a skewer. Provide a rainbow of veggies to get them excited and wanting to eat everything on their stick. Instead of meat and veggies you can also make these with fresh fruit and cheese!
Veggie Quesadillas – Many kids LOVE quesadillas. Give them healthy options to add inside their tortilla like bell peppers, mushrooms and low-fat cheese. To increase the fiber, be sure to buy the whole wheat flour tortillas. You can also get creative add fruit and meats like sausage too!
Taco Wraps – Another way your kids can get creative with tortillas. Make a taco bar with fat-free tortillas, meat, cheese and lots of colorful veggies so they can make their own healthy tacos.
These are just some ideas to get your children into making their own meals. Be sure to keep your fridge stocked with lots of healthy options and encourage your children to get creative in the kitchen.