Are you a fan of avocado toast? I would have to say it is one of my favorites but if you like chickpeas and garlic, you are in for a treat! With some chickpeas and some ingredients you might already have in your kitchen, you can make a breakfast to be proud to eat! Chickpeas are known as a heart-healthy food with their rich fiber content, so making this chickpea toast for breakfast just might be good way to start your day.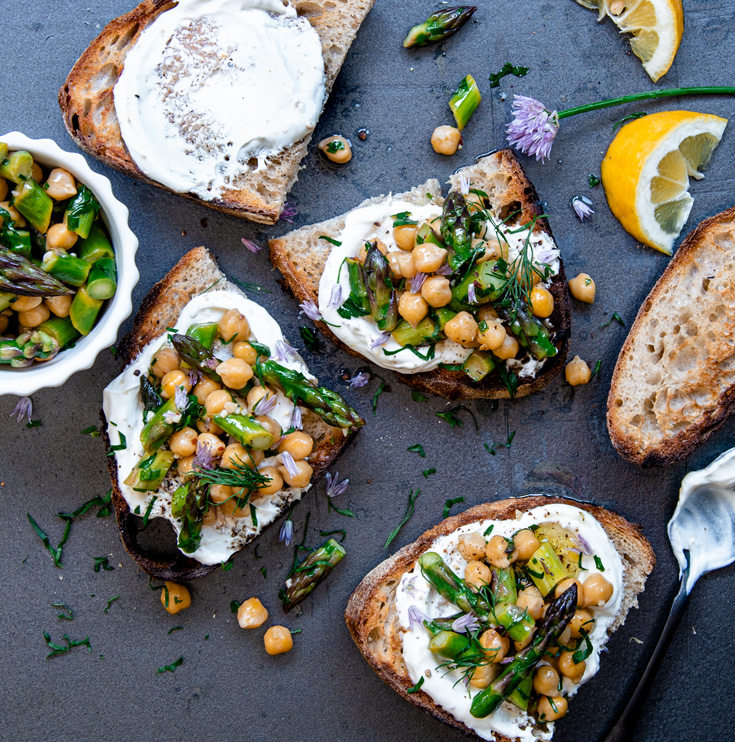 Ok, so this toast might even be good as something you eat for breakfast or lunch. Below find the recipe for Garlicky Chickpea Toast from Salt & Honey's that is easy to make and nutritious! 
Ingredients
1 7oz container plain Greek yogurt
Zest from two lemons, divided
1/3 cup lemon juice, divided
Salt and pepper
¼ cup extra-virgin olive oil
3 cloves of garlic, minced
½ cup dried chickpeas, rehydrated
1 bunch of asparagus, cut into 1/2 -inch pieces
½ teaspoon red pepper flakes
¼ cup finely chopped fresh herbs (parsley, chives, basil, mint, etc.)
Sliced crusty bread, toasted
Instructions
In a small bowl combine yogurt, 2 tablespoons lemon juice, zest from one lemon and a pinch of salt and pepper. Set aside.
Heat olive oil in a saucepan over medium heat, add garlic and cook for one minute until fragrant. Add chickpeas and asparagus and cook, stirring occasionally, until asparagus is just cooked through. Stir in remaining lemon juice, zest, red pepper flakes and fresh herbs.
Spread a dollop of yogurt onto a piece of toasted bread. Top with a heaping spoonful of chickpea mixture. Finish with a pinch of salt and pepper.
Chickpea mixture is great served hot or cold.
Have you made something similar? Be sure to leave a comment with your ideas.