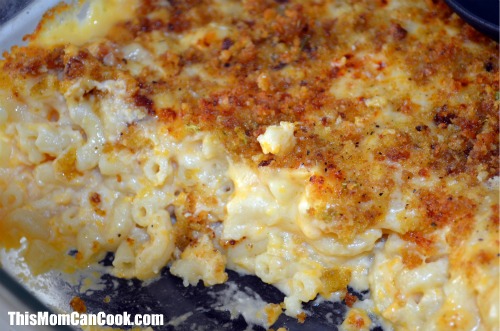 At my house, you will often find boxes of macaroni and cheese in my pantry. It is easy to cook and everyone likes it, so I keep it as a staple at all times. I often get bored with making macaroni and cheese from a box, so I will make my baked macaroni and cheese recipe that is really a hit, especially with me!
If you want to put a twist on macaroni and cheese at your house, try baking it.
Check out my recipe for Homemade Baked Macaroni and Cheese:
Homemade Baked Macaroni and Cheese Recipe
Ingredients
8 oz elbow macaroni – uncooked
3 cups milk
¼ cup butter
¼ tsp pepper
1 tsp salt
2 cups Cheddar cheese – shredded
½ cup Parmesan cheese – grated
3 TBS all-purpose flour
2 TBS butter – for topping
½ cup Stove Top Stuffing or bread crumbs – for topping
Instructions
Cook the elbow macaroni – per directions on package
In a sauce pan add the butter, salt and pepper and cook over medium heat until melted.
Add four slowly to make a roux or paste like form. Add milk to mixture slowly, stirring constantly.
Add the two cheeses and cook on medium low heat until cheese is melted.
Pour cooked macaroni into a casserole dish and add the sauce mixture. Stir mixture well.
Mash Stove Top Stuffing into crumbs. In a skillet, melt butter for topping and then add the stove top stuffing crumbs or bread crumbs and cook on medium heat for around 2 minutes to brown mixture.
Drop topping mixture over macaroni mixture and bake at 350 degrees for 30 minutes.
Remove, cool and enjoy!
389 Flares
Tweet
Email to a friend
389 Flares
×