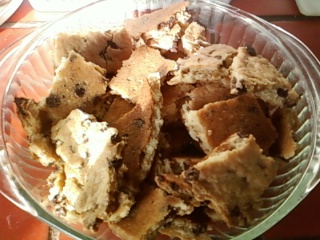 Looking to make something to cure that sweet tooth? Last night I made my hubby a yummy treat (Cookie Brittle) for Valentines Day.
Ingredients:
1 cup butter (softened)
1 cup sugar
1 1/2 tsp vanilla extract
1 tsp salt
2 cups all-purpose flour
6 oz Nestle Toll House Semi-Sweet Chocolate Morsels
1/2 cup chopped nuts (I used walnuts)
Directions:
Preheat your oven to 375 degrees.
In a large bowl, mix the butter, sugar, vanilla and salt and mix/beat until creamy.
Slowly stir in the flour
Stir in Nestle Semi-Sweet Chocolate Morsels
Press the dough evenly onto a 15×10 cooking sheet
Sprinkle nuts over the top
Bake for 25 minutes. Cool and break into irregular pieces
P.S. I accidentally put my nuts in my dough mixture. You can either put them on the top or mix them in the dough.
9 Flares
Tweet
Email to a friend
9 Flares
×