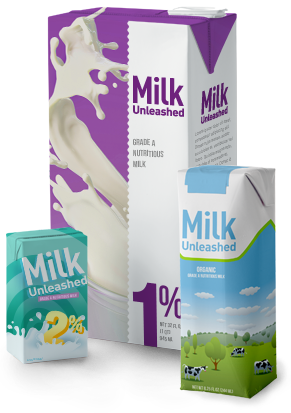 We are a family that goes through a lot of milk each month. I thought it would be fun to share some information about milk that you might not know.
Milk found in your grocery is called shelf stable milk and can sit on pantry shelves for up to several months with NO refrigeration or preservations added.
Teen years are when bone growth is at is peak, so its critical teens eat calcium-rich foods and limit soda.
Milk contains 9 essential nutrients and vitamins: protein vitamins A, D and B12, calcium, potassium, phosphorus, riboflavin, niacin, zinc and magnesium.
The average American consumes almost 25 gallons of milk a year.
Milk in boxes has the same great taste of milk found in the diary case in other container types.
The same milk can be found in two different formats: refrigerated and non-refrigerated.
99% of all U.S. households purchase milk.
For more milk facts, visit Milk Unleashed's 30 Things You Never Knew About Milk.
Take a peek at this video that shows how moms are discovering shelf milk!
What kind of milk do you buy?
24 Flares
Tweet
Email to a friend
24 Flares
×