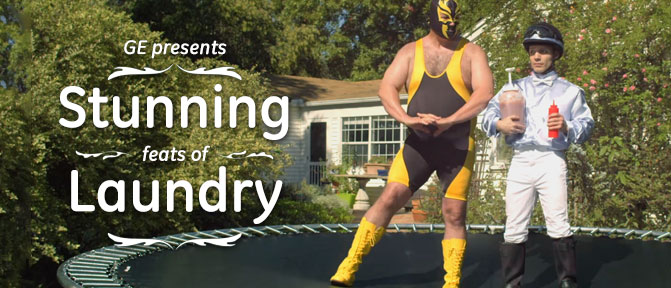 I hate when I get a stain on my clothes that I really like. Removing stains is NO fun! Seems like the times you try to be careful when eating is the times when the spill is going to happen. You ever wished there was a stain fighter that would clean all stains? I have a family of six with some of us that spill a little more often than not.
Now there isn't a such thing as an all-purpose stain cleaner that will clean all stains, but there are some good appliances out there that can help try to do the job. GE has launched their funny Stunning Feats of Laundry series that demonstrate the power of their appliances through some very SILLY staining scenarios.
A jockey on a trampoline with a Mexican wrestler makes wheatgrass smoothies.

A tennis player eating a meatball sub on a mechanical bull controlled by a cowboy.

A grandma eating a nacho fiesta behind an airboat.
I watched all three of these videos and they all made me laugh. Since I rode on an airboat last year in Florida and know how POWERFUL these things are and LOVE nachos, I thought I would share with you the Grandma Eating A Nacho Fiesta Behind An Airboat so you can laugh too!
Which of scenario above would you choose to do if you had to pick one?
"Disclaimer: This post has been sponsored by GE, but the opinions stated herein are 100% my own"
0 Flares
Tweet
Email to a friend
0 Flares
×